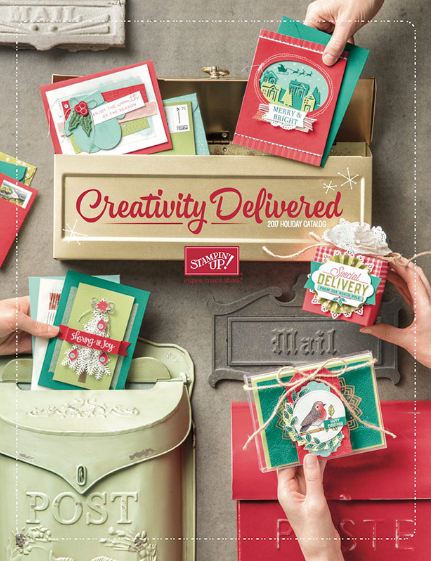 The new Stampin' Up! Holiday Catalog is LIVE!  You can view it online and order from it! Start enjoying all its gorgeousness!  It really is time to begin thinking of the holidays and all the cards and projects we want to make.
Summer has ended and now it is almost fall, at least that's what Labor Day weekend tells us! Here in Houston we still have plenty of hot weather to go, although after the wrath of Hurricane Harvey last weekend, I think we are going to be treated to a little bit cooler weather for a few days. It's hard to believe a week ago we'd had 3″ of rain with another 32″ to go by Sunday morning. And even as I write this post, people are still being evacuated from places that are still flooding and from places east of Houston where Harvey's path took it after it hit here. By some grace of God, we are still fine in our home.
That's why it is so good to have something to help us relax and take our minds off the troubles of the world for a little while. That's why we say "Stamping is cheaper than therapy!" Of course a lot of stampers and other Demonstrators are still trying to save their stamps and papercrafting supplies from the flood or will have none left when this is all over with.  Stampin' Up! has already stepped up to help some of those people.
Here are some Stampin' Up! videos for you to enjoy and to get a better feel for some of the products in the Holiday Catalog!
When you look through the catalog, when you see that little "play" arrow near a product description, that means there is a video for that product or suite of products.
If you do not have a Demonstrator and would like a Holiday Catalog, it seems that our mail service is back up so I can send you a complimentary copy.  Email me at Karen@KarenStamps.com with your contact information and let me know if you would also like a copy of the Stampin' Up! Annual Catalog.
Be sure to order your favorite products as soon as you can as some could go on backorder temporarily as we have seen in the past!  If something is backordered when you want to order it, I always think it is best to go ahead and add it to your order anyway rather than wait until the stock is resupplied because Stampin' Up! will send it out to you as soon as they have it.
To check out some other Stampin' Up! product videos, look at THIS POST.
Enjoy your Holiday Catalog and enjoy your Labor Day weekend!