It's State Sales Tax Holiday Time for Back-to-School!
And You Can Get Stampin' Up! Supplies Tax-Free!
There are 13 US states having state sales tax holidays for school supplies. What does that mean
for you? Stampin' Up! products that fall under that category will be tax-free for a limited time! If
you live in one of the lucky states, make sure to take advantage of the holiday!
Click on each chart below to enlarge it.
Double-check with your state to make sure these dates are correct.  I believe the Texas dates are wrong….I'm seeing next weekend August 11-13 advertised as our Sales Tax Holiday, not this weekend as shown on this chart. Put some tax free items on your order and make sure you are not being charged sales tax!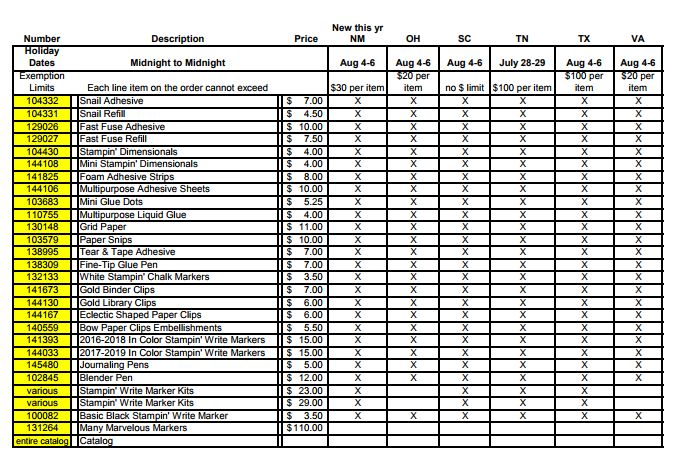 You must place your order with Stampin' Up! during the tax holiday period in order to receive these items tax-free (midnight on the first day to 11:59 PM on the last day of the tax holiday).
Keep in mind that this is a state sales tax holiday and may not apply to additional county, city, and special jurisdiction taxes.
Happy Shopping!  Be sure to check the dates!