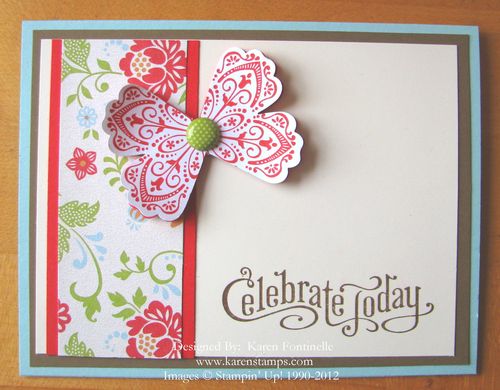 Are you looking for some beautiful designer series paper for your projects? A lot of us think the Everyday Enchantment Designer Series Paper in the Sale-a-Bration brochure is some of the prettiest paper Stampin' Up! has ever carried.  Here is a small piece on this card I had for a project at my stamp camp yesterday. Along with the greeting from Perfectly Penned, it makes a great all-occasion card.  
And how cute and easy is the little stamped butterfly?! Just stamp the flower from Mixed Bunch and cut out two petals on opposite sides.  I also have a Poppy Parade card stock butterfly right underneath, not quite visible in this photo. Just add a brad in the center, or a row of pearls or rhinestones would do as well. The other colors of card stock you see are Pool Party, Soft Suede, and Very Vanilla.
If you are in the Houston area and would like to stamp with us, please email me at Karen@Karenstamps.com or sign up for my Mailing List in the upper left corner of my blog and get notifications of when we are having a stamp camp!