The Azalea Trail Home and Garden Tour in Houston put on by the River Oaks Garden Club begins today.  It used to be two weekends, but now it is just one.  It's a fun thing to do if the weather is nice…..beautiful homes and lovely gardens to see.  Even inside the homes are beautiful floral arrangements made by the garden club ladies.  We always enjoy going!  We don't have any azaleas blooming yet at our house so I hope we see some today on the trail.  In the meantime, here are some azaleas I stamped on a card!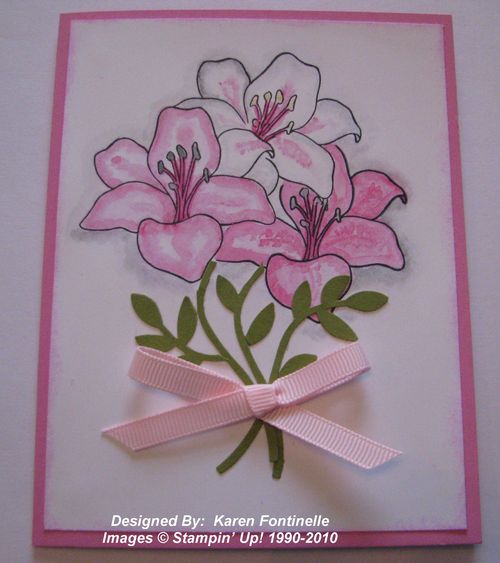 I stamped the flowers from Fifth Avenue Floral (#113734) with Black Stazon Ink (#101406) and colored in and shaded with my Watercolor Wonder Crayons (color families on IB&C page 154) and Aquapainter (#103954).  I LOVE using the Watercolor Crayons but hadn't used them in awhile…..so relaxing to just color and not worry how good it is!  I even used some gray to shade outside the flowers.  It's likely not artistically perfect, but that is the nice part of watercoloring…..you can be a little sloppy and off!  Still looks decent!  For the flower stems, I punched out the branch and leaf from the Extra Large Two-Step Bird Punch (#117191).  On some branches I cut off the leaves and put them where I wanted them on other parts of the branch.  That punch is so versatile!  You should have one!
If you want to purchase any Stampin' Up! products, just visit my Online Store!  If you would like to learn how to make a card like this, please contact me!  Or sign up for my stamping newsletter and get on my mailing list!  The box is in the upper left corner.
For information about the River Oaks Azalea Trail, just click on the link.  See you there!