Did you notice the cute little Mini Pizza Boxes in the Holiday Catalog?  Make an assortment of Christmas tags and decorate a mini pizza box to hold them and give to a friend! This is what I did the other day when we were going to be seeing some friends who were in town. I could have planned ahead since I had advance notice, but better to just wait until the afternoon before dinner and fly by the seat of my pants! Not that there is anything wrong with that, but I was rushing so much it was hard to concentrate on my own ideas and pretty much copied ideas I was seeing online without giving it too much thought.
The Mini Pizza Boxes come flat so they store easily.  You assemble by folding on the scored lines when you are ready to use them.  Very easy. There are MANY ways to decorate these cute little boxes.  I chose something simple and that went along with one of the tags I put inside.  Since the boxes are only about 3 1/2″ in length and width on the inside, I had to make the tags pretty short.  I used the Scalloped Tag Topper Punch and put the scalloped top edge at the 3 1/4″ mark on my Paper Trimmer and then trimmed the length and they came out the perfect size to fit inside the box.  These boxes are also perfect for little 3″ x 3″ note cards!
To decorate, I just used a square of a striped pattern in the Be Merry Designer Series Paper package.  I stamped and punched the reindeer from the Cookie Cutter Christmas Photopolymer Stamp Set and the Cookie Cutter Builder Punch. Of course he had to have a Red Glimmer nose punched with the 1/2″ Circle Punch.  The greeting is stamped with the Watercolor Words Photopolymer Stamp Set and punched with the Everyday Label Punch. I added a bow with the fun Red Mini Tinsel Trim.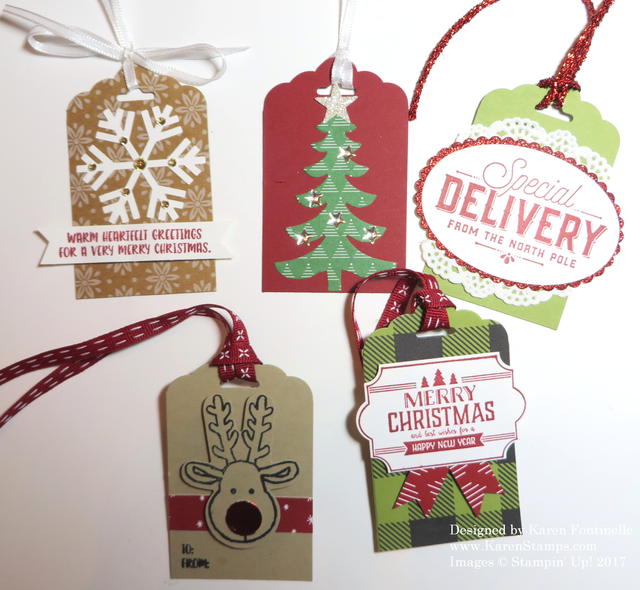 I made this assortment of Christmas tags with various papers, punches, die cuts, and stamps!  One is even made with retired products because I looked in my little box of scraps and found that tag partially made!  Just look through your currents products and papers and see what you can come up with. You might even have retired things you want to use.  Now is the time to make things like these tags to be ready to go when you wrap packages. If you wait until you are wrapping, you will not stop and make tags!  And you probably only want to make these for special gifts, if you give a large quantity of gifts like I do!  Once you come up with an idea, I recommend making maybe 5 of the same tags at once, as long as you have the supplies out and idea!  I recommend this with cardmaking too!  Might as well make more than one of the same card because we know we will eventually use it and good to have a stash on hand!
Year-End Sale Begins Tomorrow!
Just a heads up!  Watch for more details tomorrow!
Stampin' Up! is wishing 2017 a fond farewell by throwing a Year-End Sales Event in its honor! Tomorrow, Friday, December 1st,  you'll be smiling over special deals on select retiring and extra items while supplies last.
The Year-End Sales Event will run from December 1, 2017, to January 2, 2018, and supplies are limited. Be sure to jump on any products you see that you want so you can snag your favorite items before they're gone!
Click on this link below to shop at Stampin' Up! or email me to put your order in for you!  If you click tomorrow, you will see the Year-End Sale category come up!