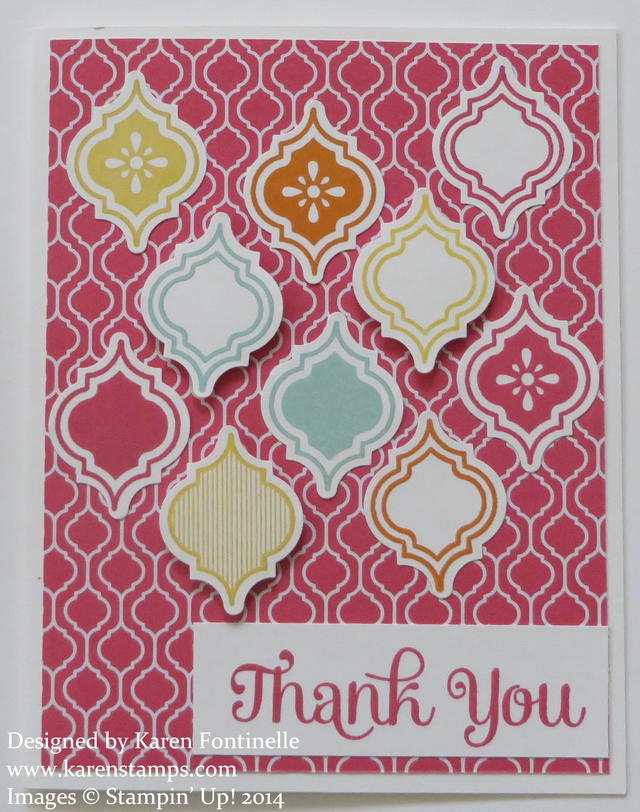 Stampin' Up! asked on their Facebook page the other day what we thought the top-selling stamp set was in the 2013-14 Annual Catalog. It turns out, in spite of lots of guesses for Lovely As a Tree, that the top seller was Mosaic Madness! It's an interesting set and definitely trendy, but I wouldn't have guessed that stamp set! Of course it does have a matching punch, the Mosaic Punch and you can buy the stamp set and punch in a bundle if you prefer. It was fun making this card with the Quatrefancy Specialty Designer Series Paper and punching out the stamped images.  The greeting is from Four You, also in the new catalog!
TODAY, SUNDAY JUNE 1st: Last day to order from the Occasions Catalog (that's my understanding now!)
June 4th:  Last day to order retiring products (while supplies last). You'll have a couple days overlap (that's my understanding now!)
***Important Note: Online Ordering will be down on Monday, June 2, from midnight to noon (MDT) while we transition the system to the new 2014-2015 annual catalog. During this time, no orders can be placed in Online Ordering. We look forward to taking your orders from the new catalog beginning Monday at noon (Mountain Time)!
Monday, June 2:  Weekly Deals for week of May 26 Last Day!
Be sure to order at my Stampin' Up! Online Store or contact me and I can put it in for you.
Are you making out your Wish List for the new Stampin' Up! Catalog??!