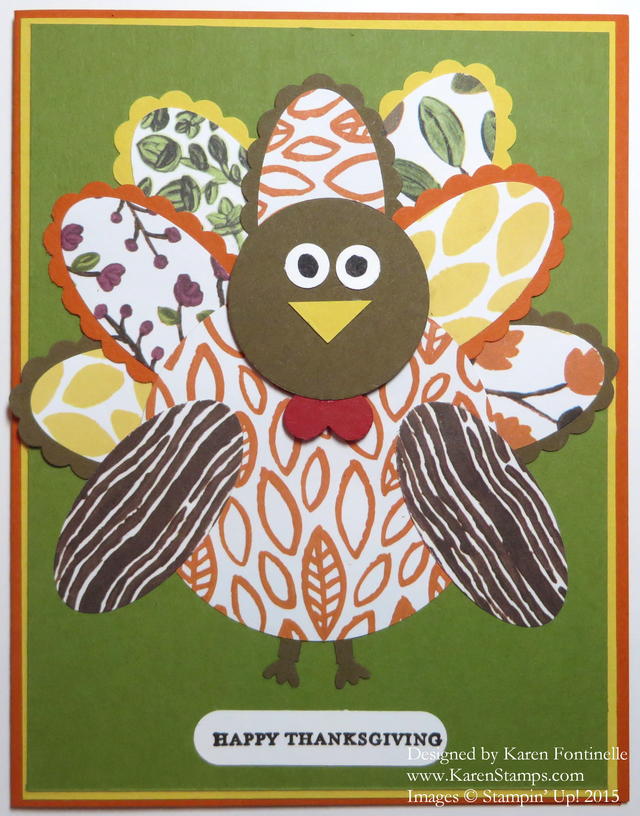 Is it too early for a punch art turkey card?! Probably not because Thanksgiving will be here before we know it!  Once I put up my Halloween decorations I know I will continually be changing them out through Christmas.  It all happens so fast!  Happy November!
Two years ago I made a punch art turkey Thanksgiving card, and I thought maybe it was time for an update. You can view it HERE. I made this card the same way, just used the current new paper, Into the Woods Designer Series Paper. I only recently got this paper (even a Demonstrator can't have it all!) and let me tell you, it is gorgeous!  I could barely stand to cut into it and punch pieces for my card!
To make the turkey body, I used the 2 1/2″ Circle Punch. The turkey head is the 1 3/8″ Circle Punch. The feathers are made with the Large Oval Punch and the Scallop Oval Punch. And where would any project be without using the Owl Builder Punch?!  I used the Owl Punch for the turkey feet and for the turkey eyes.  The beak is hand cut from a scrap and the waddle is punched with the heart in the Itty Bitty Accents Punch Pack. The greeting is from the well-used Teeny Tiny Wishes Stamp Set and punched with the Word Window Punch.
This may be a  wild and crazy looking turkey, but that's okay because I made it myself and used some beautiful paper! I played around with the feathers and placement and finally I was satisfied with it.  If you don't feel right about your design the first time, just keep playing, move things around, change the colors, it will come!
You might enjoy this Stampin' Up! video with the artist of these beautiful papers!
To purchase this beautiful Into the Woods Paper or any of the other supplies I used to make this Punch Art Turkey Thanksgiving Card, please visit my Stampin' Up! Online Store HERE.