I hadn't played with my Stampin' Up! Gift Box Punch Board in a little while so I thought it was time to make a Christmas gift box! Then when holiday gift wrapping time rolls around, I'll have an assortment of boxes ready to go!
Make an easy tag with the Merry Everything Bundle which includes the stamp set and the Note Tag Punch. Tie on with a little bit of Linen Thread, always good to have on hand. Do you recognize the ribbon?  It is the Natural 5/8″ Chevron Ribbon turned on the opposite side!
There are several steps to learn (or refresh your memory!) with the Gift Box Punch Board, but the directions are printed right on the board, and it is plenty easy once you do the first one! There's something about it that I really like!  This box is made with the heavy-weight Under the Tree Specialty Designer Series Paper. This paper is great because one side is a design with the kraft color and the other side is colored. So whichever side you use, the inside and outside of the box both look good! Also, you do not need to use any adhesive with this gift box! It just folds together. Here is a photo of the inside. Those little folded-in flaps will push out of the way when you put a gift inside. You can glue them to the inside of the box if you really want to be neat about it, but it is not necessary.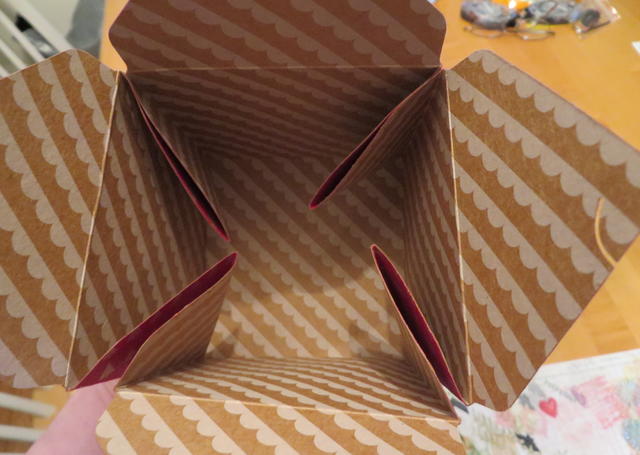 Here the plain outside of the box, just assembled! Decorate to your heart's content with ribbon, tags and whatever you choose!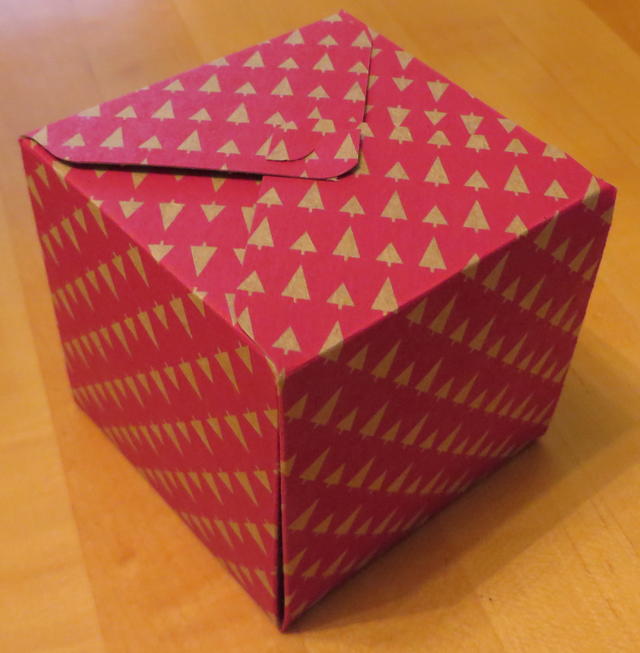 The Gift Box Punch Board even punches those little slits on each corner of the lid so you can close it up with just those. Easy to make box, easy to assemble box! Handy to have the Gift Box Punch Board on hand for when you need it!
Don't forget the new 2014 Holiday Supplement! Check it out and get your order in soon!