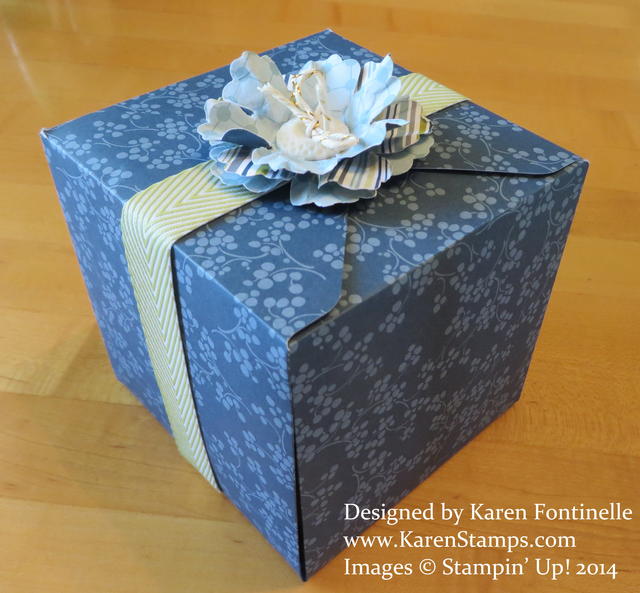 Soon you will be able to make your own gift boxes with the new Gift Box Punch Board #135863 when the Stampin' Up! Holiday Catalog goes live on August 28!  That's in only a couple more days! Yesterday I finally got a chance to play with the new punch board and just grabbed a retired piece of designer series paper, Urban Garden, to use in case I messed up. So in this project you are seeing the new with the old!  You may find the punch board a little confusing right at first, but once you get the hang of it, you won't have any problems. After all, I did make that box myself and didn't even mess up! This post isn't about how to use the Gift Box Punch Board, but just a sneak peek at something you can make with it and an idea for the Blossom Punch, on the Stampin' Up! Weekly Deals this week!
Here is the 4″ x 4″ gift box before I decorated it. This is the largest size you can make with the Gift Box Punch Board.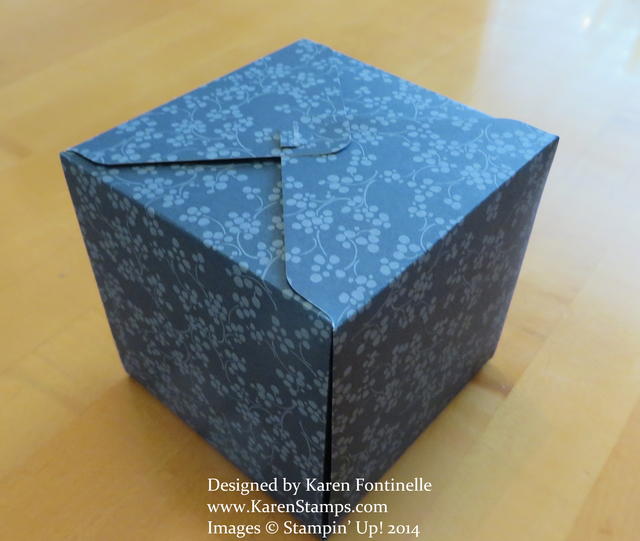 Here is a view of the partially open box. You can see the little clasp closure on the points of the top of the box. You can use the Gift Box Punch Board to make these. If you do not like all the folds of the box being pushed to the inside of the box, there are a couple things you can do to change that to adhere those sides.
Here is a close-up of the flower decoration I made with the Blossom Punch. First I wrapped the box with the Pear Pizzazz 3/4″ Chevron Ribbon. I thought it matched pretty nicely! With the Blossom Punch, I punched three flowers from the Urban Garden DSP.  One pattern is different from the other two and is layered in the middle. The layers are all held together with a Silver Mini Brad, which is later covered up by the button.  I spritzed the flower with water and gathered the layers up toward the center and mooshed them together to get a little texture. The Very Vintage Designer Button is threaded with the Gold Baker's Twine with a little bow and adhered with Glue Dots. Do you know you can color the buttons with the new Blendabilities?!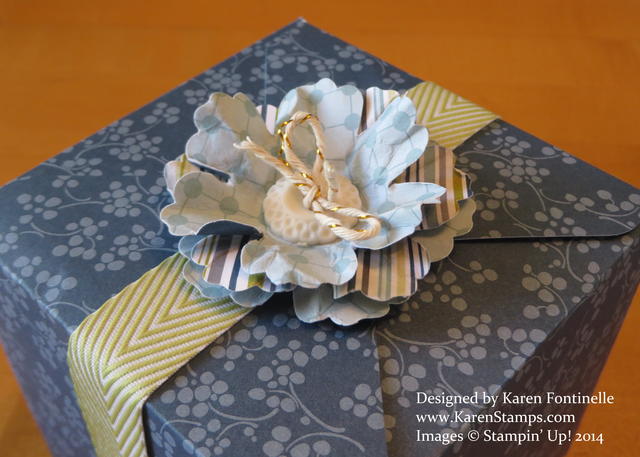 Even though this box was my first attempt with the Gift Box Punch Board, coming in the Holiday Catalog, and even though I didn't even like this pack of designer paper very much, I was VERY pleased with my first little box! Especially after I so easily decorated it!
When you place your Holiday Catalog order later this week, check the Stampin' Up! Weekly Deals and get the Blossom Punch if you don't already own it.  It is a punch I have used a lot. It coordinates with the Mixed Bunch Stamp Set, too! Everything is available at my Online Store!