Years and years ago I purchased this Halloween gift bag at a craft show and have only used it as one of my many Halloween decorations around the house. It's made with fabric probably ironed on to the paper bag.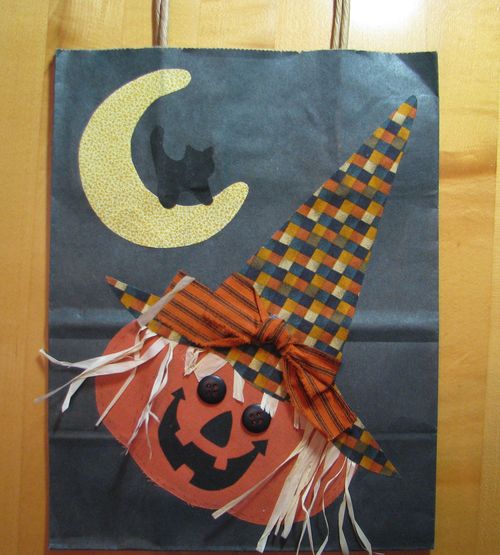 Then I thought why not make a card like the bag? So I did!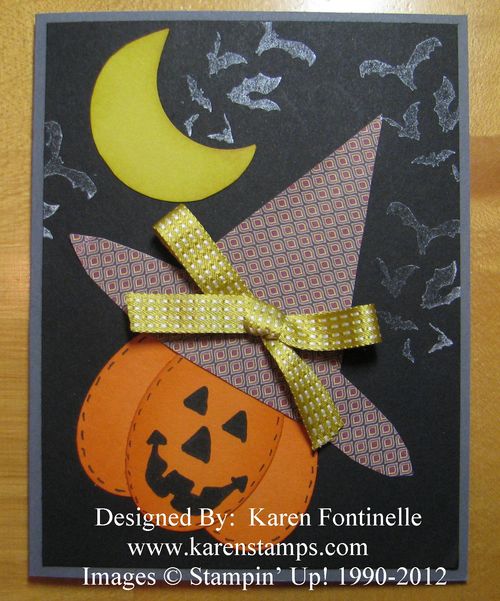 I started with the pumpkin head, made out of three ovals punched with the Extra-Large Oval Punch.  I sponged Pumpkin Pie ink around all three ovals and then just played with them until I got them placed how I wanted them. You could even use punched circles if you wanted. I just drew on the face with a black marker and drew on the little stitching lines.
For the Halloween hat, I die-cut the medium-size triangle on the Perfect Pennants Bigz L Die using the International Bazaar Designer Series Paper.  Who would think you would use that paper for Halloween? The hat brim I just cut by hand and tied a Summer Starfruit Stitched Satin Ribbon bow.
The moon is a scrap piece of Summer Starfruit card stock.  You can cut it by hand or punch out a small circle for the inside of the crescent moon and then another circle to cut the outside edge.  You still might need to trim the points of the moon.
And for one more embellishment to the card, I stamped the bats from the Wicked Cool stamp set using the new Illuminate Glimmer Watermark Ink Pad. I just wanted a very light, night-time look for the bats in the background. There is a slight shimmer to the ink but it doesn't photograph as such at all…at least not with my camera and skills!
Halloween is getting close!  Time to finish making those cards and mail some out to your friends!