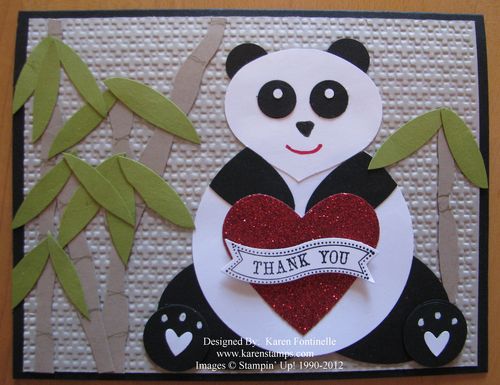 While in St. Louis a few weeks ago, we were able to attend the Lantern Festival at the Missouri Botanical Garden. It was a beautiful and colorful display of wire forms covered with silk, and after dark they lit all the displays and scenes. One of the displays was called "Panda's Paradise".  My sister-in-law's friend was able to get us all tickets to go, so when I heard her say she loved pandas, I knew I would make her a punch art panda card!
I know I found this idea somewhere on the stamping internet, but I modified it a little bit and added the red glimmer heart for my thank you. I thought the Lattice embossing folder made a good background. Can you guess that the panda's face is made with the Ornament Punch with the little top cut off?
Stampin' Up! sells a great variety of punches, and plenty of talented stampers, demos and customers alike, come up with all the creative uses for them, not just what you first see! So you know you will get your money's worth out of all the punches!