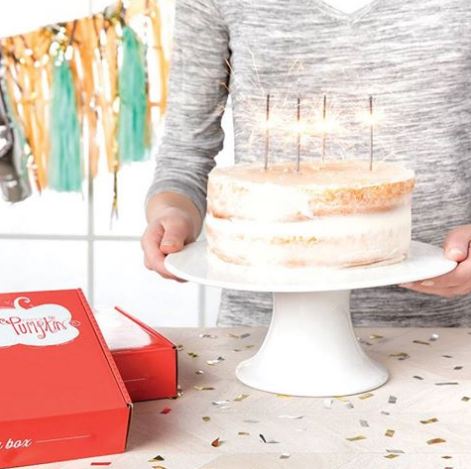 This month marks the 4th Birthday of Paper Pumpkin, the papercrafting kit that comes to you in the mail each month from Stampin' Up! in the cute red box! It's wrapped just like a special present to you each month because it is! It's the gift of crafting time for you to sit down and relax, de-stress, and only think about the contents in the box. You don't have to design anything or gather supplies.  Just open the box! It's all in there! Read the directions and watch a video if you like, then either make the project as designed or do your own thing with the supplies. Yes, you can change it up if you want!
Paper Pumpkin is a surprise every month! Even if you don't like surprises (some people don't!), live dangerously and try it out! It is not always cards to make.  We have had mini albums, candy treats, party favors, a calendar, small home decor items – it could be anything – anything that fits in the box! Some people would only like cards and some people want something other than cards, so a variety eventually pleases everyone, and, as I said, you can use the supplies to make something else if you don't like the project. And if Paper Pumpkin is not for you, just cancel your subscription. If you know you are going to be too busy, skip a month.
Many people order an extra Paper Pumkin kit or subscription for another friend or loved one and do the kits together or know that their family member is working on their kit across the country at the same time! I send one to my daughter every month. Getting just the Paper Pumpkin Kit works for her and she has come to enjoy that amount of stamping. She doesn't want the big collection of stamps and things that I have, so having it contained in a box and then being able to give out the project to her friends at book club or sending to her husband's coworkers or mailing out the cards works for her. If she gets behind, she goes into her account and "skips" a month or two.
For sure do it by March 10th so you get the March Kit! That is FRIDAY!
If you join after March 10th, you will receive the April Kit. Once you are a subscriber you will have access to purchase any of the past kits or refills that are available.
Another option is to add a prepaid Paper Pumpkin subscription to your Stampin' Up! order. This may help you reach Hostess Rewards or get an additional Sale-A-Bration product. Check it out in the Online Stampin' Up! Store!
I have no information on the March kit, so far! No sneak peeks or clues about it! All I can say is that since the first kits, Paper Pumpkin has done nothing but improve! Just be sure to sign up by March 10th to receive the March kit which will go out mid-month!  Barely any wait once you sign up!