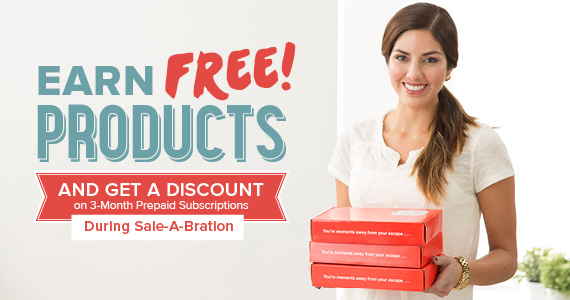 Here's a new twist on Sale-A-Bration from Stampin' Up! Stampin' Up! has lowered the price on a 3-month prepaid subscription for Paper Pumpkin, the papercrafting kit that comes to you monthly in the mail in a cute red box. Stampin' Up! lowered the price $5, and since the cost is $54.85, that 3-month subscription qualifies for a free Sale-A-Bration product!  You can order the 3-month Prepaid Subscription by itself and choose a free Sale-A-Bration product OR add the subscription to your regular order and choose SAB products for your entire order.
Paper Pumpkin has gotten better and better over time, especially during the past year — better projects, more materials, in my opinion. It's really fun to open that box each month and be surprised by what is inside. In the December kit, there was an extra free gift enclosed, a paper piercing pack with three templates! One of those things that just adds a little extra to a project!
If you order by the 10th of any month, you will receive the kit that goes out around the 15th of the month. You can even pause your subscription if you want to skip a month.
You'll find Paper Pumpkin in my Stampin' Up! Online Store under "Kits". There you can choose whatever length subscription you want.  You can even make it a gift for someone.  Who wouldn't want a red Paper Pumpkin Kit showing up in their mailbox during these cold, dark days of winter?!
Do it for your sanity! Do it to perk up your post-holiday blahs! Do it for your own "craft therapy" to relax and reenergize!  Creativity is good for you!
Order your 3-Month Paper Pumpkin Subscription today and choose your free Sale-A-Bration item!