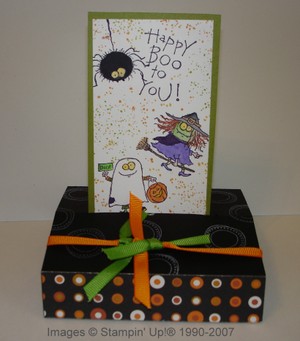 I have often seen stand-up pop-up cards like this one but this is my first try. The card actually folds flat (as you will see in the second photo) to fit into an envelope but when you pull on the greeting, it stands up on its own base. And it is very easy to make!
This one is made with the fun Booglie Eyes stamp set, colored in with Stampin' Write Markers, along with the always useful Itty Bitty Backgrounds stamp set. On the top of the base, I stamped some circles from the stamp set Priceless and used a strip of Creepy Crawly Designer Paper for a little interest on the side of the base. The ribbon colors are retired but were the most Halloweeny I had on hand at the moment.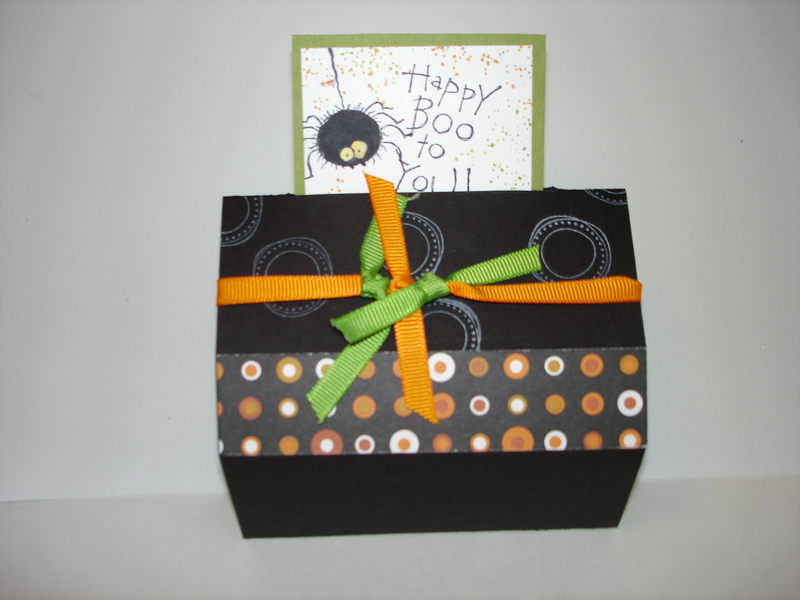 Here is the same card folded down into the base.
Remember, you can click on any of the photos for a larger image.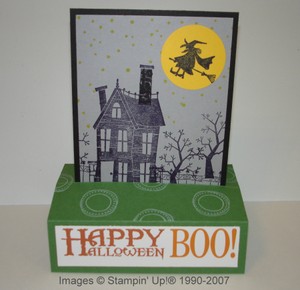 Here is another one I made! I used the Home is Where the Haunt Is stamp set. The words at the bottom are from the Creepy Crawly Designer Series Paper. I have to admit I had a "Duh!" moment when I realized words I saw on a similar project were from the paper, not from the jumbo Batty wheel! I kept looking at the words on that wheel in the catalog and wondering where these other Halloween words came from, if they were on the backside of the wheel or if I was forgetting about some other wheel! But no, they are printed on the Creepy Crawly paper and you have a large assortment of different size words to choose from!