One day as I was looking through the Occasions Mini Catalog I noticed on page 22 this little bitty card in the samples with a big button on it!  I thought it was the CUTEST little thing!!
So I made one!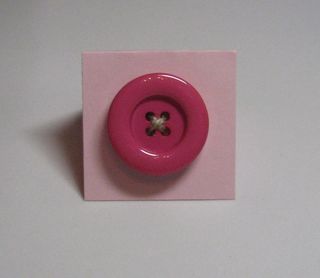 I cut Pink Pirouette to 1 1/2" x 3" and folded in half.  The button is from the Sweet Stitches Designer Big Buttons #122302 on page 35 of the Occasions Mini.  The button is threaded with Linen Thread #104199. Now you could leave it this plain, or you could stamp a little word in the corner before attaching the button.
If you knew a seamstress, wouldn't this be the cutest little tag for a gift? Anyone would love it!
******************
This is a great day to stamp in most parts of the country! While you are snowed in or staying in because of the freezing cold, do something fun….which, of course, would be stamping or scrapbooking! The weather forecast even for Houston, TX is SNOW tonight!!!!  I'm keeping my fingers crossed!  You know I love snow!!
Here's another small card I made for Valentine's Day using the Bitty Buttons #118761 and the Heart Small Punch #117193.  I cut the Crumb Cake card stock 3" x 6" and folded in half and used the Love Patterns Paper Pack Designer Paper # 124156 for a layer and for the small hearts.  I punched a little strip of Red Glimmer Paper #121790 with the Pinking Hearts Border Punch #117649.  The heart-shaped buttons in the Bitty Buttons are attached with a mini glue dot after being threaded with Linen Thread.  You could stamp a little greeting on the front instead of the glimmer paper strip if you wanted.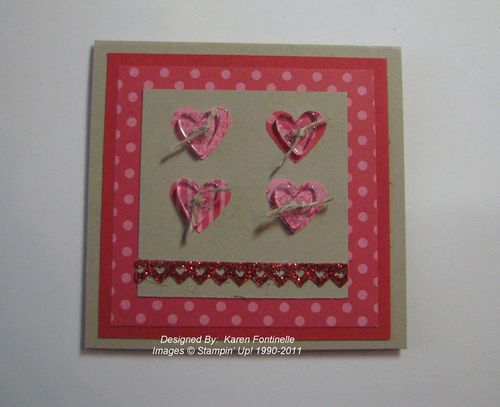 Here's tip on working with these little buttons….. thread the linen thread through the button holes, but then stick them down with a Mini Glue Dot.  This will anchor them so they will be easy to tie!  No more fighting a flipping-around button while you try to tie your knot!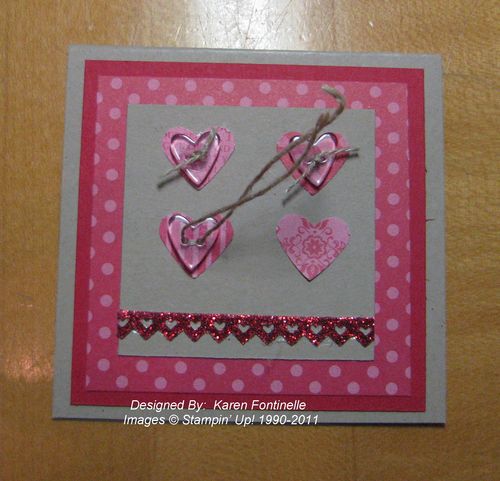 Don't forget to put some buttons on your next order for Sale-A-Bration! Click HERE to shop and place your order!