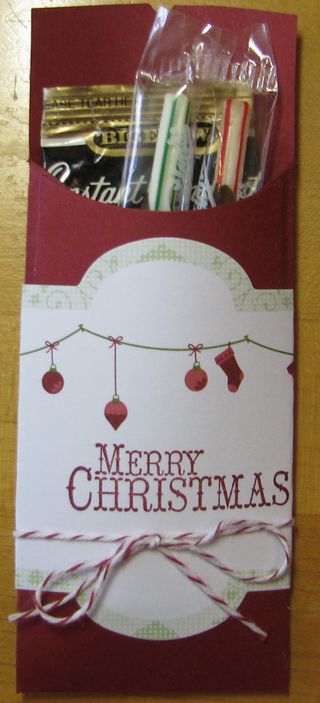 You will find the Snow Festival Designer Printed Tags in the Stampin' Up! Holiday Catalog on page 17, and look how you can pair one with the Petite Pocket Die and make a cute little gift! Honestly, I passed these up when I saw them in the Holiday Catalog because I didn't know why I would want to buy tags for packages from Stampin' Up! Well, of course they were cute, but when I wanted so many other things, why would I spend money on these? But since then, I have seen so many cute ideas for using these for more than tags, that I ordered two packages of them!
The Snow Festival Designer Printed Tags come in a little pad so you just tear off the one you want to use. Each of the 25 tags is double-sided with five different holiday designs on each side, so that makes ten different designs to use in your projects!
Here is one cute project…..it was in the magazine that Stampin' Up! Demonstrators receive with craft ideas, business tips and news. Just use the Petite Pocket Die cut out with the Big Shot and adhere the sides to make the pouch. Then take a tag of your choice and adhere just the center on the front of the pouch.
Wrap the sides around to the back and adhere. Stamp a greeting or embellish with some ribbon.  I used Baker's Twine and stamped the greeting from Chock-Full of Cheer (best to stamp the greeting before you attach the tag!)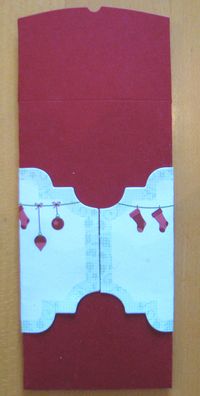 If you want to add on these Snow Festival Designer Printed Tags to your order, just go to my Stampin' Up! Online Store and shop!  It's not too early to get started on your Christmas projects!
And if you want to see a creative Christmas idea every week, be sure you are on my newsletter mailing list!  My next "12 Weeks of Christmas" newsletter comes out tomorrow!!  Don't miss another one! Sign up at the top of my blog today!