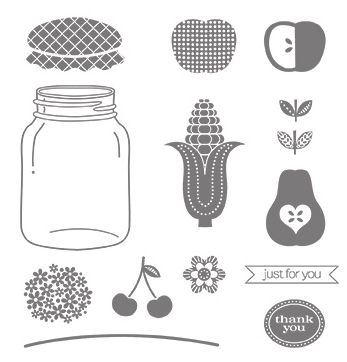 Images copyright Stampin' Up! 2012
When I first saw the Perfectly Preserved Stamp Set with its jar and some fruits and vegetables for its contents, I couldn't help but think of my jar quilt!
Many years ago I took a quilting class where we were going to make a quilt that would look like jars lined up on a black background filled with different things.  It was five jars across and then 4 jars going down. The jar shape was made out of print fabric that could have bugs or monsters or whatever you wanted "in" your jar and another strip of fabric for the lid of the jar. Little triangle pieces of black fabric would make the shape of the jar.
I'm not an expert seamstress so mine started as a disaster! In my own defense, I think it was the sewing machine that clumped all the thread together. What a mess! Some other lady taking the class tried ripping mine apart so I could start over, even as the teacher was worrying that the lady was using her class time to try to fix my quilt! I actually thought I had some part of mine put together but apparently not!   Like lots of unfinished craft projects, this was found in a drawer barely started!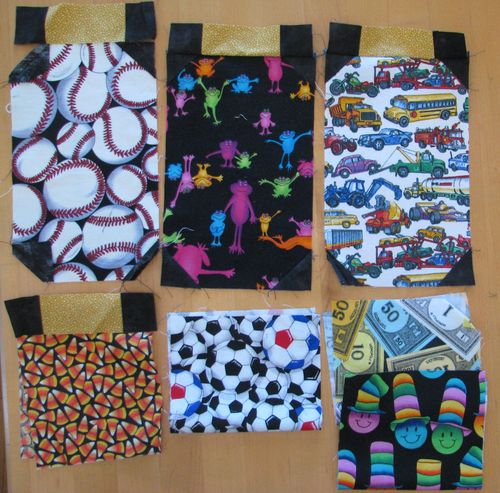 I don't remember if the sample quilt had "jars" of bugs or not, but I knew I didn't want mine to be all about bugs….so I found fabric pieces of baseballs, monsters, play money, soccer balls, candy corn, vehicles and many other things. I think it would have been cute if only I had finished it! Maybe someday!!  
I think you could use the same idea with the Stampin' Up! Perfectly Preserved Stamp Set, use some other stamps, like sports balls or butterflies or ornaments or whatever to "fill" the jar! It doesn't have to be about food!
You can find the Perfectly Preserved Stamp Set in the Stampin' Up! Holiday Catalog on page 29.  If you are also interested in the matching Cannery Set Framelits Dies, then get the Perfectly Preserved Bundle and save 15%!
Let me know if you need any help in ordering or just go to my Online Store any time! And don't forget, if you spend $40, you can choose a free roll of 3/8" Stitched Satin Ribbon.  Spend $80 and get two rolls!  You'll love that ribbon!