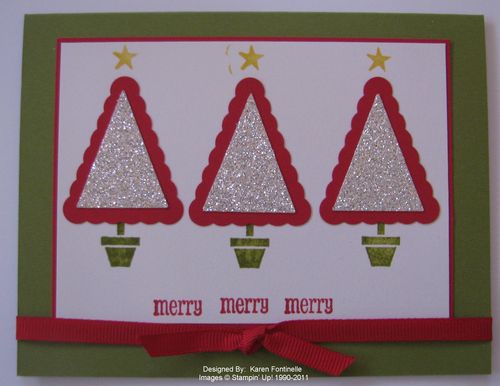 The stamp set "Pennant Parade" and the matching punch "Petite Pennants" work together to make a great Christmas card. I'm not sure how I got red Christmas trees, but I was envisioning the red alongside the Silver Glimmer Paper!  Oh well!  The card still looks Christmas-y for sure! You can see a little extra ink from the edge of the tiny star stamp….but it almost looks like glow lines from the star so maybe I'll just add some on the other side!  As I heard someone say the other day, if you have a mistake it lets the person know it is truly handmade! But since there are no mistakes in stamping, I can probably "fix" my boo boo somehow!
For my Convention swap, I just eyeballed things, but today I did use my Stamp-a-ma-jig #101049 to get everything placed where I wanted.  It's a great tool to have on hand because you WILL use it.
As I've said before, the Silver Glimmer Paper #124005 is so beautiful but a photograph just doesn't do it justice.  You'll want it!
SUPPLIES  
Stamps:  Pennant Parade #122740w, #122742c
Paper:  Old Olive, Real Red, and Shimmery White #101910 card stock, Silver Glimmer Paper
Ink:  Old Olive, Real Red, Daffodil Delight
Accessories:  Petite Pennants Builder Punch #122361, 1/4" Real Red Grosgrain Ribbon #109034, Stamp-a-ma-jig #101049
Pick out some easy Christmas card designs you like and make a few cards! Send them to those on your list who are "worthy"!