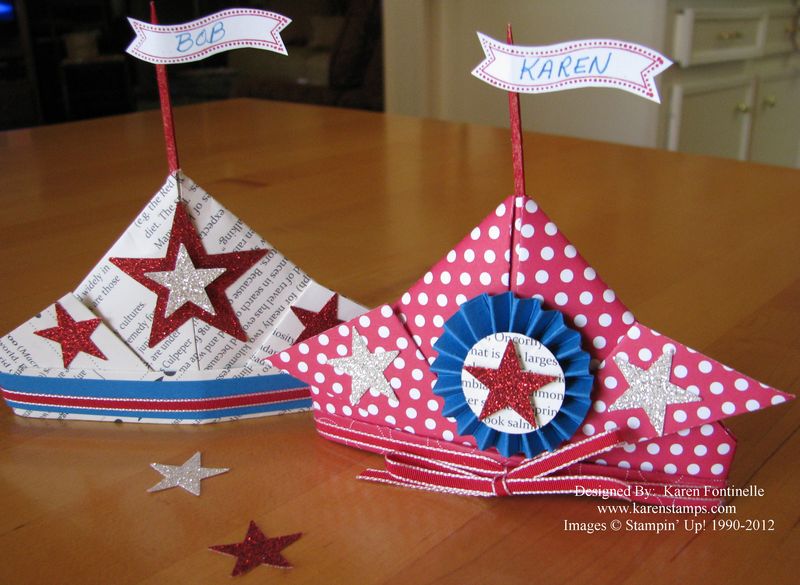 Wouldn't these patriotic 4th of July place card holder hats make a cute table decoration for your 4th of July party or picnic?! I saw the examples and instructions on the Country Living website and thought I would give them a try!  It's almost like making paper hats when you were a kid, just a little fancier.
I used a piece of designer paper 8 1/2" square.  You could make it larger or smaller. Mine turned out about 4 1/2" wide at the base and 3" high.  One is made with the First Edition Specialty Designer Series Paper #121878 and the other with the new Polka Dot Parade Designer Series Paper #126902. I loved using the Red (#121790) and Silver Glimmer Paper (#124005) for the stars.  Unless you already have the Stampin' Up! retired star punches you'll have to cut out your own stars, but that is fine, too. Just decorate these little hats however you like.  For a place card, just attach a name to a toothpick or skewer or pipe cleaner and insert in the top of the hat.
Try it!  The instructions are pretty clear.  Use some scrap paper the first time. When you get to Steps 5, 6, 7 and 8 just keep folding that bottom portion up until you form the folded over brim of the hat…which forms the base.  That's the only part I found a little tricky following the directions.
Find the directions HERE.
And for all your stamping and papercrafting needs, please shop at my online store HERE. Stampin' Up! paper, ink and stamps plus accessories are the best!