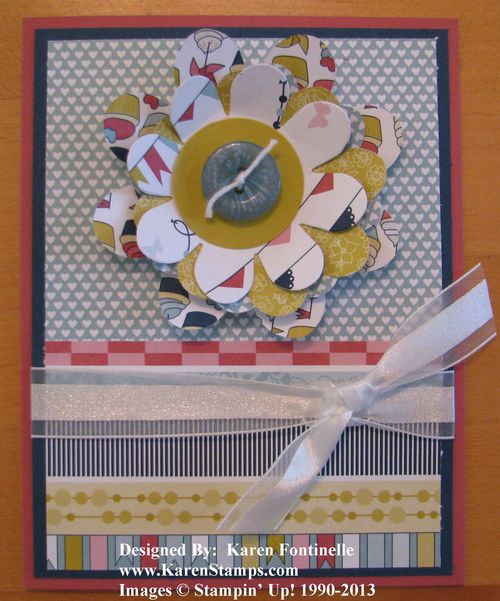 An all-occasion card is one that we can all make and would be handy to have in our stash.  Sometimes I don't put a greeting on the front of the card so that I can add whatever I want later for whatever occasion I need.
If you remember in this post the other day, it was like I rediscovered the Patio Party Designer Series Paper and loved it!  I knew I loved it when I first saw it at Stampin' Up! Convention or Leadership awhile back, but then I never used it much.  Right now it really appeals to me. One of the sheets in the pack has the multi-pattern design as you see on the bottom of the card….so no work!  Just cut off a piece and adhere it to your card and it will look like you spent time adding various patterns in strips!
I loved making a flower with the Flower Folds Die and the Big Shot out of several different patterns of the paper.  Maybe a real flower wouldn't have the lines of a banner going across it, but I liked the colorful look.
Play with what you have and I bet you will be inspired too!
Don't forget, Sale-A-Bration is going on but not for too much longer!  With every $50 purchase you get a free Sale-a-Bration product!  Shop Online HERE!