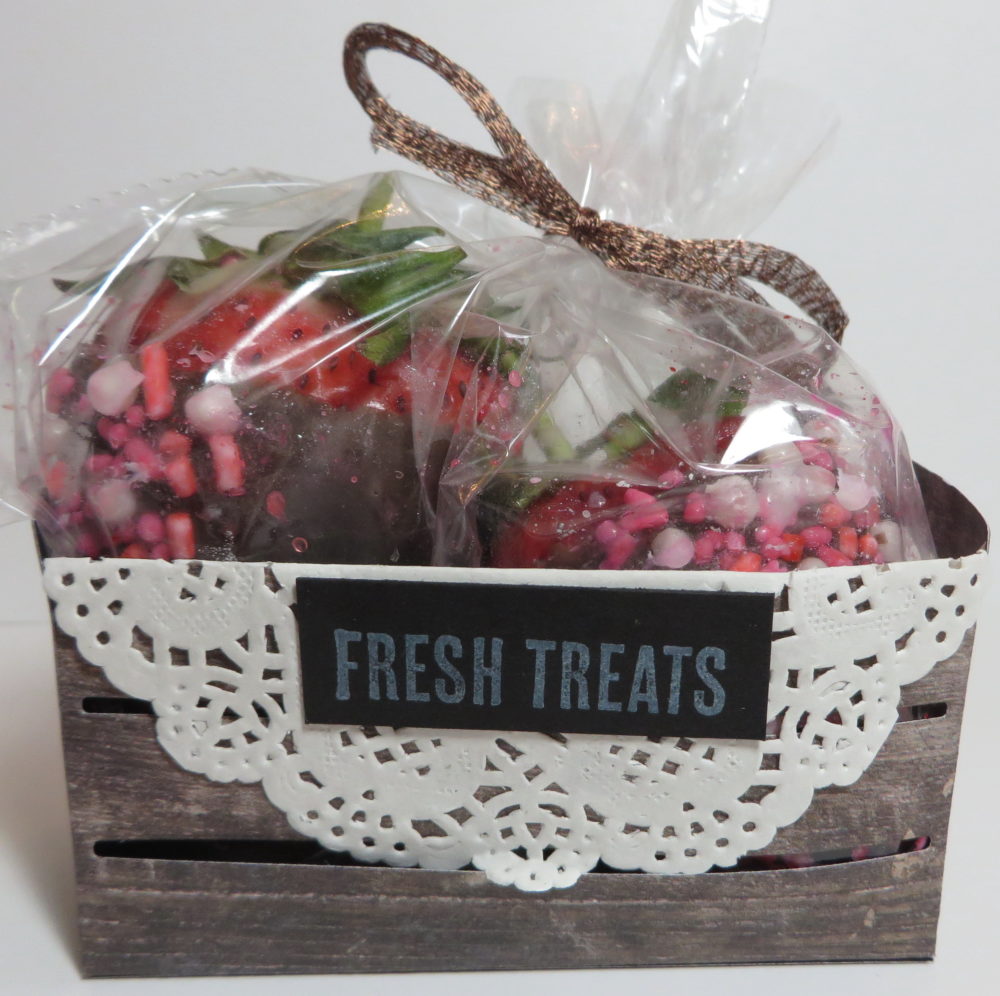 Soon you will be able to make this very cute little paper crate with the Wood Textures Suite, coming in the new Stampin' Up! Catalog! This was my first try and to put something inside, I grabbed two of my Mother's Day chocolate covered strawberries and put them in a little bag and stuck them in the crate! The crate is small but large enough to cram two gigantic strawberries inside!
The Wood Textures Suite contains a stamp set, Wood Words, and the Wood Crate Framelits Dies plus two ribbons, cello bags and the Wood Textures Designer Series Paper Stack. The patterns in the paper stack are all wood grain looks of various kinds on both sides of the paper, so when you have the wood grain on the outside of the crate, it will also have a similar wood grain look on the inside. The stamp set is very cute and useful with a very pretty flowery stamp for perhaps making note cards to go in the crate or even to decorate the crate.  There are quite a few words in the set to go with the crate or notecards. Lots of creative possibilities with this whole suite. The ribbon I used to tie my cello bag closed is the 1/4″ Copper Trim.  This is a real interesting ribbon because you can leave it as is, like you see at the top of my bag, or you can pull it apart to make it wider and give it a different look.  If you don't like it, you can pull it and it will go back to its normal shape.
For some decoration on my crate, I just cut a Delicate White Doily in half and put it draped over the front and the back. If you want stamping on the crate, be sure to stamp the paper before you assemble (note to self!)!
If you are interested in Stampin' Up! products and need a new Stampin' Up! Catalog which will go live on June 1st, please send me your contact information and I will mail you a complimentary catalog. If you already have a Demonstrator you want to continue working with, she will have a catalog for you.
In the meantime, be sure to check out the Retiring Products and the Clearance Rack. There are some great bargains on the Clearance Rack, things you can use for upcoming holidays and other stamping projects.  But hurry, because I see there are not as many items left any more!