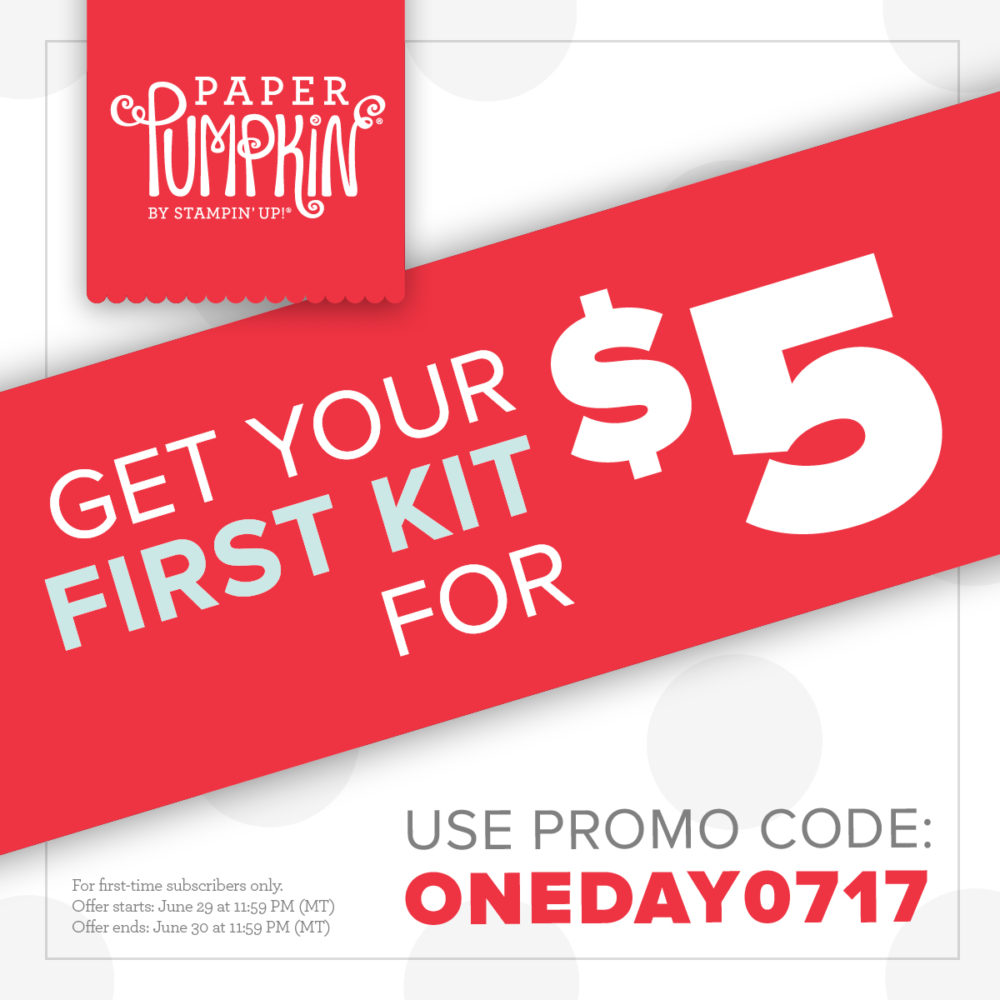 TODAY, June 30th, is the
ONE DAY $5 SALE

on your first Paper Pumpkin Kit, sent in the mail to you mid-July!
Everyone loves a great deal, and this one is amazing! It started at midnight last night and lasts all day today until 11:59 PM (MT) June 30.  So today is the day!!
Today ONLY,  new Paper Pumpkin customers can receive their first-month subscription for only $5 USD. That's a crazy 75% off the regular price.
What is Paper Pumpkin?  It's a papercrafting kit that comes to you in the mail once a month from Stampin' Up! All supplies are included – an exclusive stamp set, ink spot, and everything you need for the project. Each month is a surprise! And YOU deserve it! Especially at THIS price!! No risk, no obligation!  Perfect time to try it for one month and see if you like it!
Click to visit PaperPumpkin.com from June 29 at 11:59 PM (Mountain Time) to June 30 at 11:59 PM (Mountain Time).
Use Promo Code ONEDAY0717

 to get your first kit at this incredible price.
You can keep the creativity coming after that for only $19.95 per month (shipping included). Or cancel before the 10th of the month any time. Or just skip a month if you need to and then start up again.
This offer will be over in a flash, so be sure to take advantage of it!
DETAILS:
For new subscribers only.
Not valid on prepaid subscriptions.
Discount applied to one kit for the first month of subscription.
After that creativity keeps coming at $19.95 USD per month (shipping included).
Promotion begins on June 29 at 11:59 PM (MT) and ends on June 30 at 11:59 PM (MT)
This is what your sign-up page will look like AFTER you put the Promo Code in the box and click APPLY: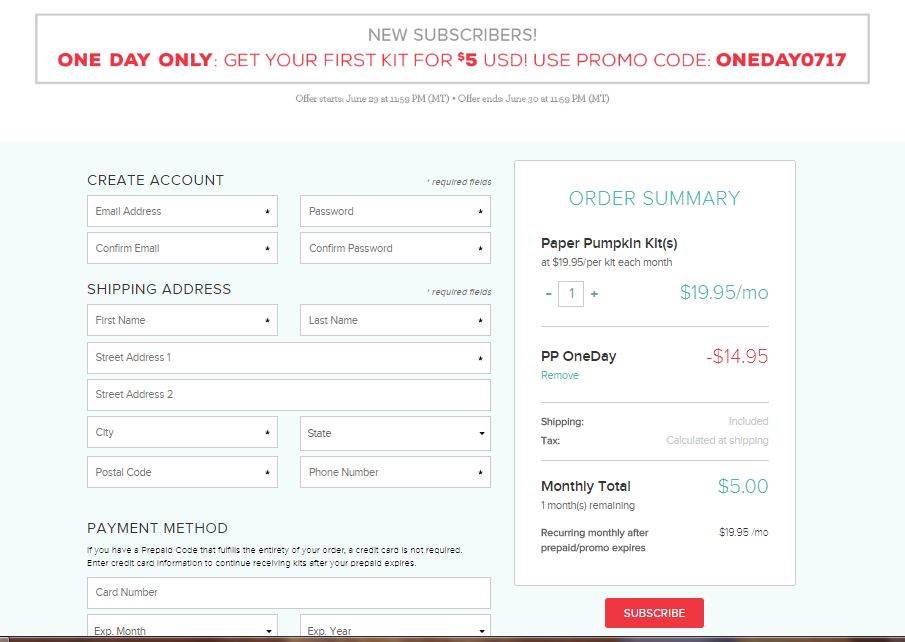 Why not join Paper Pumpkin for at least one month??  For only $5, you will receive a nicely presented gift box in the mail, an exclusive stamp set, an ink spot, and a special Paper Pumpkin acrylic block to use with your stamp set in your first kit, plus all the materials for the project, whatever it is!  All this for $5!!!  You've got to take advantage of this deal!  $5!!!  No risk, no obligation to continue. Just go into your account by August 10th (the 10th of the month is always the magic date to make any changes or order extra kits!). You likely will want to continue, but if you are super-busy you can always skip a month and come back to it the next month.
Paper Pumpkin is a gift you give yourself and

today only

it is only $5.00.  You can't beat that with a stick!  Try Paper Pumpkin!