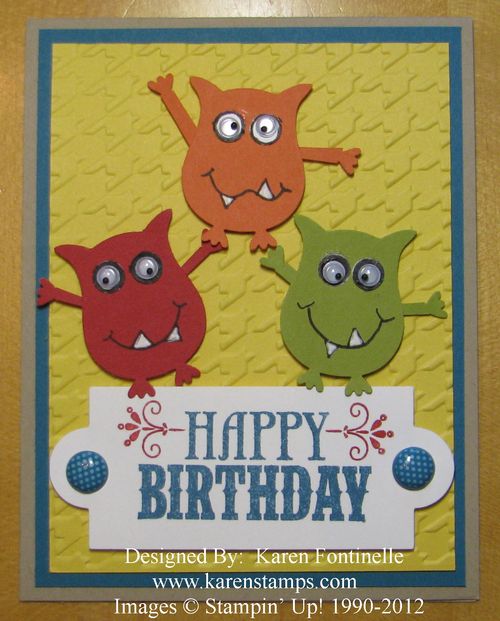 In trying to think of a birthday card to make for my son-in-law, I was a little stumped this year.  Last year I got an idea for a Star Wars card that I probably mostly copied from an idea I saw online.  I thought it turned out great and he liked it!  Right up his alley! But this year, the other things I knew he liked were a little harder to come up with in a card. When I saw an idea of using the Owl Punch somewhat like this, I decided to go with a "generic" monster/sci fi/comic character/whatever card for him. This is what materialized and I like it!
The Owl Punch is one of the greatest tools you can own! Not that I think of these things, but other stampers come up with a multitude of ways to use our Stampin' Up! punches and make them worth their weight in gold for crafting! To make my little monsters (or whatever they are!) I punched the owl, drew on his mouth and teeth with a Stampin' Write Black Marker and colored in the teeth with the Signo Gel Pen. For the arms I stuck a little strip of paper in to punch just the feet of the owl and then cut the strips to make arms. I punched out the white eye circles with the Owl Punch although I colored them in with black around my Googly Eyes.
The sentiment is from the stamp set You're Amazing and die-cut with the Big Shot and the Apothecary Accents Framelits Dies.  The brads are the  3/8" Designer Printed Brads.
If you are looking for a male birthday card, for child or adult, this is a good one and fun to make!  If you prefer just stamping your monsters, there is the Make a Monster stamp set!
You can order any and all of these products and more from my Stampin' Up! Online Store.  Go there today….and also check the Clearance Rack if you are doing an online order!