New Stampin' Up! Recruits, those who want to own their own businesses by being an Independent Stampin' Up! Demonstrator, get to pick a Free Project Kit as an extra to the purchase of their Starter Kit.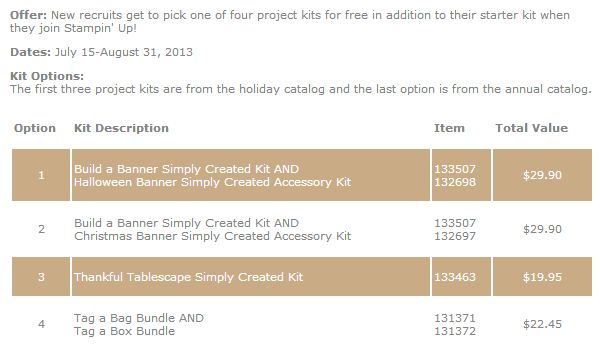 Purchase the Stampin' Up! Starter Kit, which you get to customize according to your needs and desires by choosing which products to include up to a $125 value and pay only $99, and become a Stampin' Up! Demonstrator in just a few minutes by signing up online! Work your business to the level you want according to your own goals, desires and family commitments. And I'm here to guide you along the way in addition to Stampin' Up!
No need to be artistic or creative! The art is already created on the stamps!  All you have to do is put stamp and ink to paper!  I can show you PLENTY of avenues to inspiration to create your own beautiful stamping artwork!
Perhaps you are a digital person! You can have a totally digital Stampin' Up! business with My Digital Studio. Digital papercrafting is huge and plenty of opportunity for you to build a business in that area. And of course you can combine both traditional stamping and scrapbooking with digital papercrafting.
Contact me at Karen@KarenStamps.com and I can answer your questions or provide more information and tell you the easiest way for you to sign up and get started!
This special offer is good July 15 – August 31, 2013.