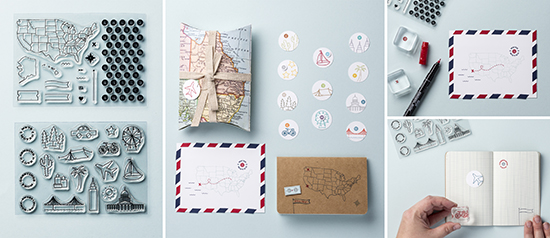 Stampin' Up! just released two new photopolymer stamp sets (photopolymer-what??) for your stamping pleasure! They are Map It Out and Greetings From. They both have travel themes so will be great for scrapbooking your summer (or fall) travels…..and of course they're not "just" for travel!  And not just for scrapbooking!
Photopolymer are the stamps that are clear themselves and go on the clear blocks so you can see right through them when you stamp.  They're very sticky so they work well on the blocks.
At Convention last summer, Shannon West showed on stage how she makes cards in My Digital Studio ahead of her trip with a map or states on the front and shows her travel, and then she sends them out.  Now you can use these new stamps of the USA map to do something similar.
Check out the PDFs for the sets for more information:
You'll find these two sets in my Stampin' Up! Online Store.
Watch this video for an overview about Photopolymer Stamps!