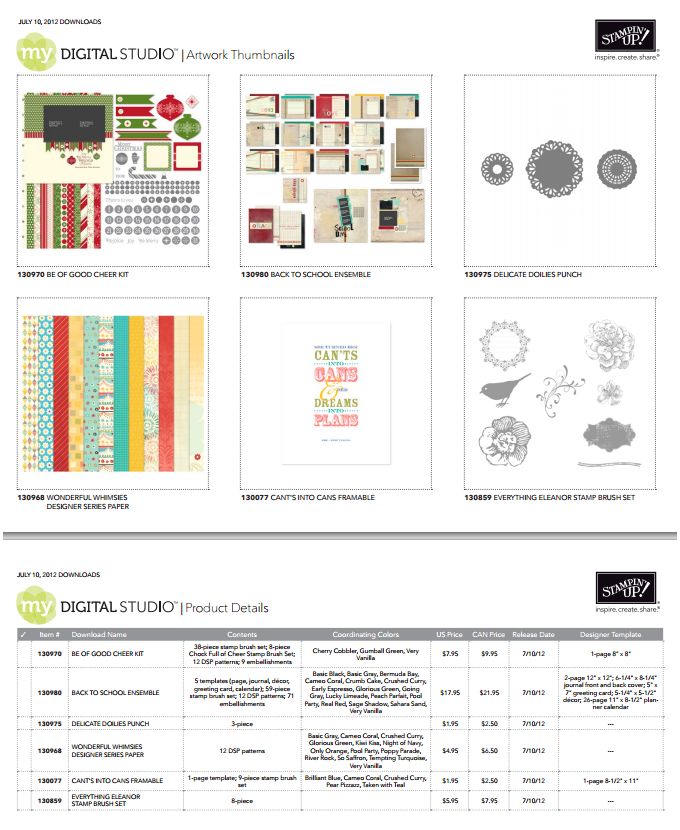 New downloads for My Digital Studio released today!! Fans of the Stampin' Up! digital papercrafting and scrapbooking software called My Digital Studio can hardly wait for Tuesday to roll around when Stampin' Up! "usually" releases new downloads. It's like Christmas every week!
Click the image above to enlarge and then you can also zoom in. Or see all the recent My Digital Studio downloads in my Online Store!
My Digital Studio is already great, but a new even greater version is coming out soon!  Stampin' Up! says "later this year" but I'm thinking there have been subtle hints that maybe it will be sooner rather than later! Should you wait to try My Digital Studio Version 2??  NO! Go ahead and get the FREE 30-Day Trial of My Digital Studio Express and then go ahead and purchase the software.  Then when the new version comes out, you will receive it for FREE! Nothing to lose and everything to gain!
Email me with any questions!
Sign up for my Mailing List and stay on top of Stampin' Up! news about My Digital Studio and more! The sign up box is in the upper left corner of my blog!