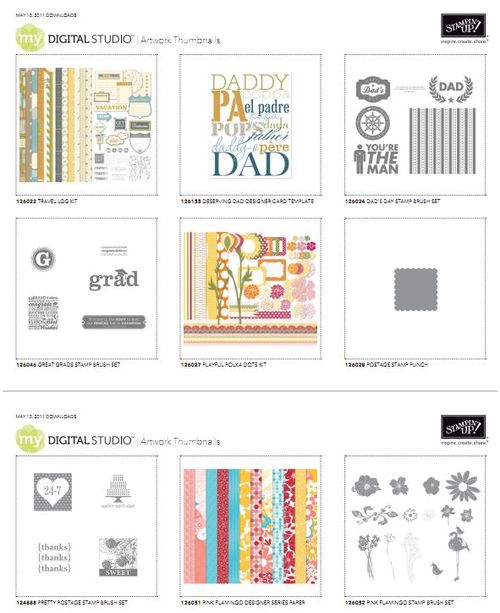 All images copyright Stampin' Up! 2011
Click on images above to enlarge.
It's Tuesday and that means new digital downloads for My Digital Studio from Stampin' Up!.  When Stampin' Up! first released My Digital Studio we all thought it was pretty great the way it was.  Since I wasn't familiar at all with digital scrapbooking, it was a whole new world to me.  Then they began releasing new digital downloads to add to our program and that was exciting.  Now they are releasing new downloads every Tuesday!!  Must be a really successful product and I think it is only going to continue to grow by leaps and bounds.  Do you want to be a part of it??
It's not only about scrapbooking!  So if you don't scrapbook, don't think you wouldn't be interested in My Digital Studio.  You can make Stampin' Up! cards, calendars, gifts, decorations, invitations, favors, designer paper, greetings, tags.
Check out the Summer Mini Catalog on page 21 for information on My Digital Studio software and extra content.
With Father's Day, graduation, and summer vacations coming up wouldn't this be a useful addition to your stamping and crafting repertoire? 
May is National Scrapbooking Month.  Don't forget about the Stampin' Up! specials going on….and if you want to start your own business, you might like to invest in the Stampin' Up! Digital+ Starter Kit at a discount….get My Digital Studio AND become a Stampin' Up! Demonstrator!! To purchase My Digital Studio, just click HERE.