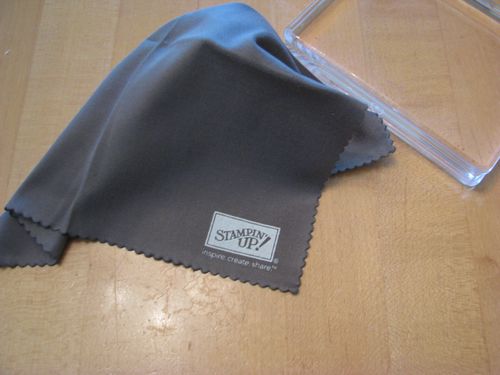 I finally tried out my new Stampin' Up! Clear Block Cleaning Cloth as long as I was cleaning everything else in my new kitchen!
First of all, I have to say I love the color of the cloth!  Not that that has anything to do with anything, but I like it!  We should all have a jacket or something made out of that fabric!  :)
It is a microfiber cloth, 7 1/2" x 7 1/2" inches, designed to clean off fingerprints, ink and dust from the Clear Blocks. When you feel the cloth itself is dirty, just handwash and dry flat.
I don't even know what some of that dirt was on my clear blocks, but it is gone now, thanks to my new cleaning cloth!
Be sure to put one on your next order! It's a great addition to your stamping tools and accessories.