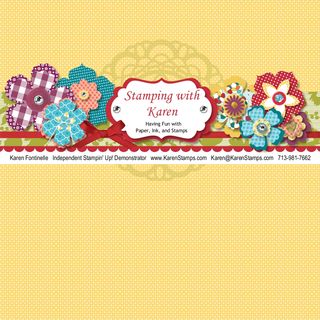 If you are a regular visitor to my blog, you might notice things look a little different today….and that I have a new blog banner made in My Digital Studio! I decided it was time to change things up a little. There's probably still some tweaking I have to do and I'm not sure it is anywhere close to fabulous yet, but it will do for now!  
I wanted to try making a custom banner for myself, preferably matching the one I made in MDS on my Stamping with Karen Facebook Page. The difficult part for me was getting it sized correctly…I know I made it harder than it needed to be.  From what I have heard, if I just waited a little longer I could make a banner easily in the new My Digital Studio Version 2 coming out August 1st. There are going to be lots of great new features in the new version of My Digital Studio! I can't wait to get my hands on it!
To see the new My Digital Studio downloads that came out this week, view them here in my Online Store.