Recently I needed a wedding gift and remembered something that a customer of mine had asked me to make for a dear friend of hers as a first anniversary gift….a box of cards for all occasions! I just made up an assortment of all different cards….birthday, thank you, baby, Christmas, holidays, etc….and then the challenge was to find the perfect box. You might think a photo box would work but I think it barely has any room above the cards. I found this Martha Stewart CD box in kind of a linen-like light blue covering. To decorate the box I used Stampin' Up! rub ons….probably got carried away with the rub ons actually, but that's how they are! Bet you can't use just one! The rub ons were very easy to apply to the box. I used the wooden stick that comes with the package but I also tried my Stampin' Up! Empressor (R) Stylus on page 187 of the catalog, which worked well and rubbed a little "quieter" on the fabric. I also added a nice address book with the cards, which, if I had planned ahead a little better I could maybe have made myself! I hope the new bride will find the cards convenient to send out because as much as we love email and text-messaging, we all know that a real card in the mailbox is a treat!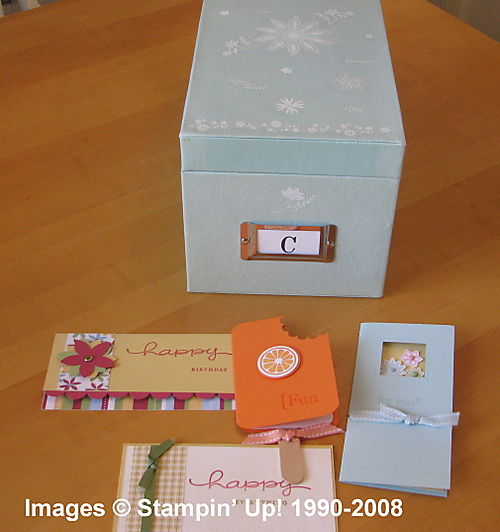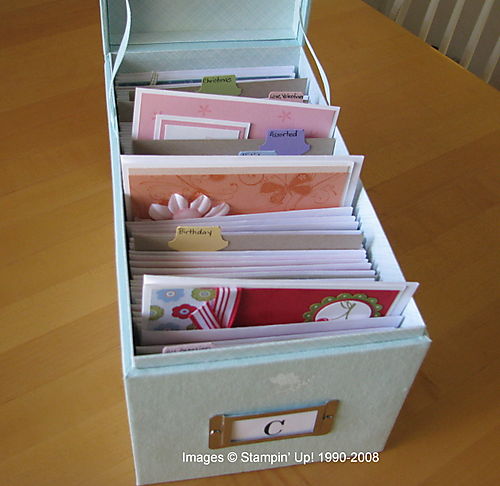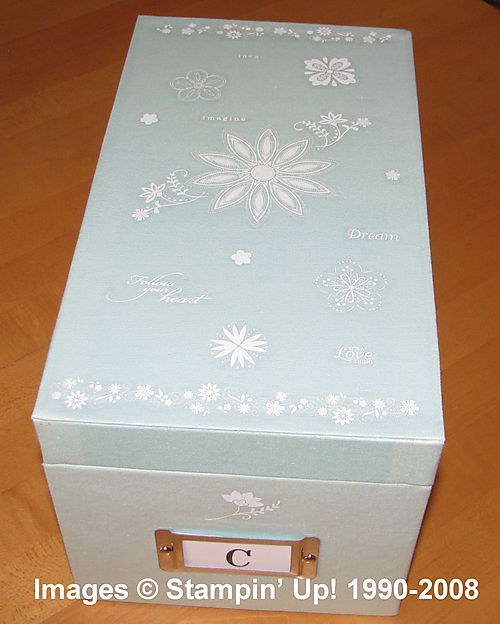 Although I purchased a large gift bag, I decided to put the actual wedding card I was giving the couple in a Stampin' Up! clear envelope and attach it to the front of the bag as a decoration. I just hope they realized it was the card and opened it!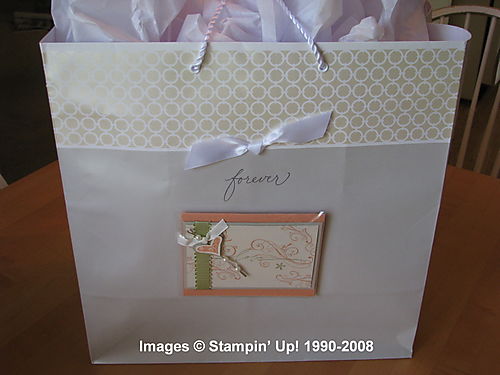 No need to be totally creative on your own…..this card was copied from one sample in the Spring~Summer Collection 2008 on page 144 using the Pretties Kit (page 188) for an embellishment, the beautiful Fairy Tale ribbon, and the fabulous stamp set Priceless on page 108.