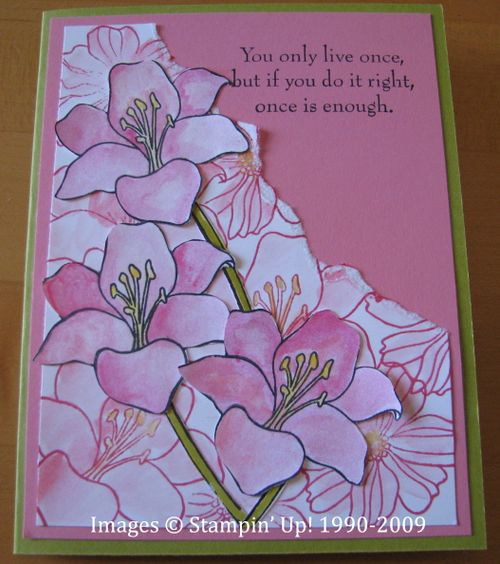 Last weekend was the annual Azalea Trail in Houston put on by the River Oaks Garden Club.  This is one thing my husband and I have done every year that we have lived here except one!  We love seeing the beautiful gardens and houses and basically seeing how the other half lives!  We were excited that the four houses on the trail this year were new ones to us.  There were other places on the trail as well, but we just did the four homes and gardens.  One pool house was more beautiful than our house!  Wow!  And the azaleas were starting to bloom pretty nicely, even the ones in our own yard.  Some years they have not been quite ready for the Azalea Trail.  Just driving around the River Oaks area with its beautiful homes and yards was a treat in itself on such a pretty day.
So from the azaleas, I was inspired to make this card!  Not sure that these flowers are azaleas, but they kind of look like them.  This is the new Fifth Avenue Floral stamp set.  I stamped, watercolored, and cut out the three "azaleas".  On the background I stamped that same flower plus another one in the set and watercolored lightly to provide a background.
We have bluebonnets blooming in the backyard already so spring must be right around the corner!
If you need some stamps to make some spring flower cards, be sure to check out the online catalog at my website and click the Shop Now button!  I used the Aquapainter and just refills and inkpads to color in the flowers.  So easy!