This was originally just my first attempt with my new Three Tier Pop-Up Cake Die, but when it was time to send my daughter a birthday card I decided to go with this pop-up.  I only had the "bare" cake constructed, so I had to finish it up.  I quickly punched out some flowers with the Trio Flower Punch and inserted Gold Brads and adhered those on the cake.  I love to use a touch of glitter anywhere I can, so I used the Two-Way Glue pen on the flames of the candles and shook on some Dazzling Diamonds Glitter.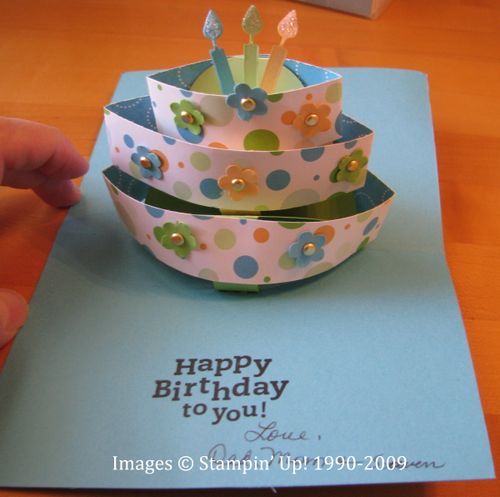 The front of the card is decorated with some Rainbow Sherbet Designer Series Paper, ribbon, and the Party Hearty stamp set with a little flower from the Pretties Kit.  The Designer Paper and ribbon is actually a little band to hold the card closed.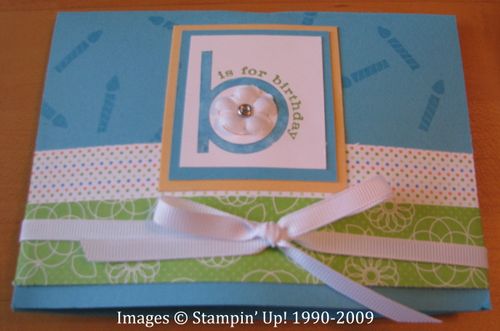 Here's what the card looks like without the band.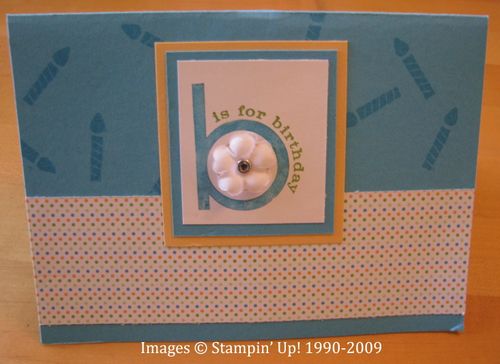 This card is made with the new "Three Tier Cake Pop-Up Bigz XL Die" (#116760).  You might think this looks too complicated, but I was actually able to make this at 3 am one night when I couldn't sleep!  (I think my mind was on this new die I had received and couldn't wait any longer to try it!).  A little bride and groom also comes with this die so you can also mkae a wedding cake!  And don't think you will be limited to just birthday or wedding cakes!  Other creative demos have made pirate ships, a flower pot, and all kinds of designs with this die.  Instructions come with the die, and of course I am always available for help!
If you want to own this die and start making your own fantastic projects, just go to my website and click on the "Shop Now" button or contact me and I will be happy to help you with your order.