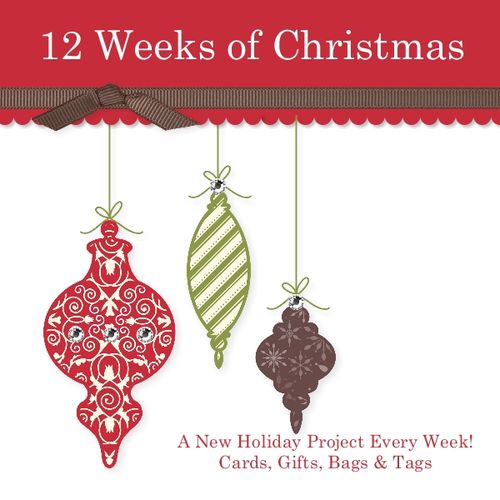 Images copyright Stampin' Up! 2011
My "12 Weeks of Christmas" is coming next week, October 5.  Are you signed up on my Mailing List? Get started on Christmas stamping and papercrafting ideas! This is an exclusive benefit for my mailing list subscribers!
My "12 Weeks of Christmas" is a weekly email with a Christmas project to inspire you!  Each email will have a photo of a new project, a supply list and directions.  These projects will not appear on my blog, only in this special 12 Weeks of Christmas email.  Projects will include cards, gift ideas, and bags & tags for gift-wrapping time!  I know most of us have not really thought about Christmas yet, but we know right well it comes up very quickly….and next week is October already!!  Get a head start on your beautiful handmade cards and gifts by receiving the 12 Weeks of Christmas email.  I might even throw in some bonus projects….you know how excited I get over all the creativity in stamping and papercrafting!
(If you are already one of my newsletter subscribers, you don't have to do anything…..you will automatically receive these special emails!)
If you want to join in on the fun and inspiration and are not already on my newsletter mailing list, please sign up NOW in the box in the top left of my blog!  Please tell your friends about it also so they don't miss out!
Remember, I always tell my new customers there is nothing too difficult to do in stamping….you just have to have the materials…so if you are a beginner or brand new to stamping, you can still do these projects!
Join us for the "12 Weeks of Christmas" weekly newsletter of exclusive holiday inspiration!  
Sign up now for my Mailing List!
(You can even click the Facebook Like or Tweet button at the bottom of this post to share!)