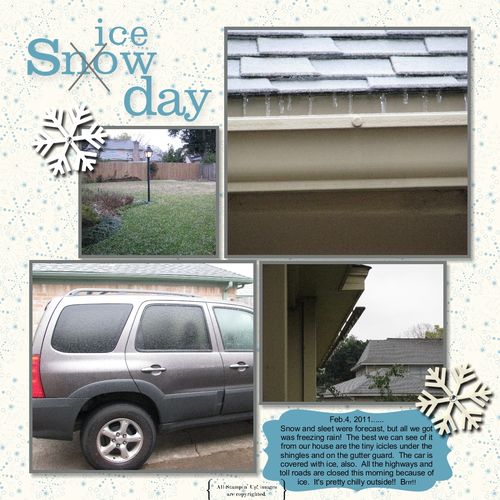 Rarely do we have wintery weather in Houston, TX. The weather forecasters got us all excited about a prediction of up to 3″ of snow….BUT this is all we got! Freezing rain during the night made the morning very icy! Nothing too exciting to see from our house except for tiny little icicles and our car completely covered in ice! Almost all of the highways are closed as the overpasses were completely iced over with that dangerous black ice. Pretty cold weather here but it should get over freezing for a little while this afternoon!
So all that makes for a great day to stay in and do some scrapbooking of the conditions, and the easiest way to do that is with My Digital Studio! I just chose a 12×12 page and a layout of photo boxes and went to work! So many great choices of things to use right at your fingertips on the computer! Stampin' Up! continues to produce new downloads for My Digital Studio so there is no end to the possibilities for the creative projects you can make…..and of course you don't really have to be creative at all…..if you want, just drop your photos into a pre-designed page.
To find out more about My Digital Studio, click HERE.
To purchase My Digital Studio and get your Sale-a-Bration rewards, shop online HERE.