While I have owned My Digital Studio since it first was available, I haven't been as quick as others to whip out projects in ten minutes!  We were out of town for ten days and of course it took probably at least a week to catch up on things at home after returning.  Since I'm not one to just "get in there and play" with the software, I have been listening to and watching the training webinars Stampin' Up! has been providing for demonstrators.  So while I have been "playing" with My Digital Studio, I also found it valuable to follow some of the training provided.  Now that our big trip to New England is long over plus another weekend trip, I've been finding more time to enjoy My Digital Studio.  Click HERE for more information.
My Digital Studio provides designer templates that you can use as is, adding your own photos for a photo album or other project, or adding your own embellishments, etc.  
Here is the greeting card template I started with: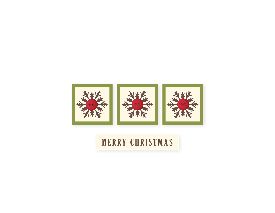 (I added the black border in my blog as the card is white and it wasn't showing up!)
And now here is my own version: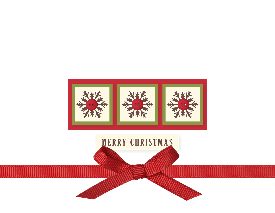 As you can see, I added some digital red grosgrain ribbon and a bow and a digital layer of Real Red card stock behind the snowflakes.  I'm having it printed by the Stampin' Up! professional printer.  
Last night I was really going to town working on a multimedia photo album but had to stop to go to bed!  It is so much fun to discover what all is included in this program….and there already are some new downloads!  Let me know if you have any questions if you are considering purchasing My Digital Studio!