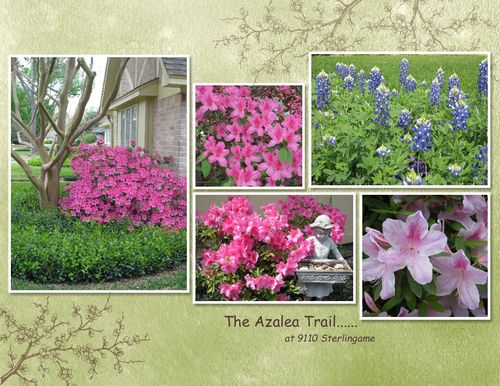 Images copyright Stampin' Up! 2012
Here is a page from my My Digital Studio calendar. These are photos from our yard last year.  I simply chose a design in the Photo Layout section of My Digital Studio and plunked my photos into the boxes. I chose a background paper and added the stamps (branches) to the page, plus some text.  I love how this page turned out!  My Digital Studio can be as simple or as involved as you want it to be. If I wanted, I could play around with more embellishments or borders or colors or anything and make the page even "jazzier"….and then if I didn't like it, I could just delete those items.  The ease of changing any element in this program is its greatest strength, I think.
If you want to try it out, take the free 30-day trial of My Digital Studio Express!  Make all the projects you want during that time and see if you don't end up loving My Digital Studio! It's not only about scrapbooking!
By the way, the River Oaks Azalea Trail Home & Garden Tour is this weekend in Houston, March 9 – 12.. This has been a tradition every year with us and we always enjoy it.  My favorite part is getting to go inside some of the beautiful homes!  Sometimes you just see the gardens. The weather forecast, though, is for a rainy weekend…so sad!  But if that turns out to be wrong, be sure to head over and see the stops on the Azalea Trail!