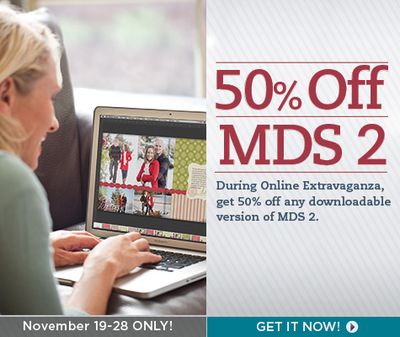 Images copyright Stampin' Up! 2012
One of the most amazing things on sale during the Stampin' Up! Online Extravaganza is My Digital Studio…50% off regular price!!  This is a steal! This is the newest version of the software, Version 2.  If you don't want to spend very much and just want a little bit of content and want to purchase exactly what downloads you want later, you can get the MDS 2 Download for only $19.98. If you already own the original version of MDS, you can just get the upgrade for only $9.98. But if you want the best deal around, you'll want MDS 2+ for only $39.98. The MDS 2+ version has SO much content…well, you can see it all HERE.
MDS 2+ is such a great deal at this price, I would just buy it….BUT if you want to do the Free MDS 2 30-Day Trial, you can still do that…and just do it until Nov. 28th to try it and then buy MDS 2+ for half price before the sale ends!!
New MDS downloads out today! See images below!
Make your own Christmas cards in My Digital Studio!  Lots of designs to choose from!
If you want your MDS software on a disc, you can purchase discs starting Nov. 29…but really the best way is to have the download which is always available in your Download Manager so no worries about losing or damaging the disc.
Don't wait!!  Check out My Digital Studio by Stampin' Up! today!  Being able to get the newest version of this software for half-price is amazing! It's easy to learn and there are plenty of resources to help you. Even I learned to use it!!