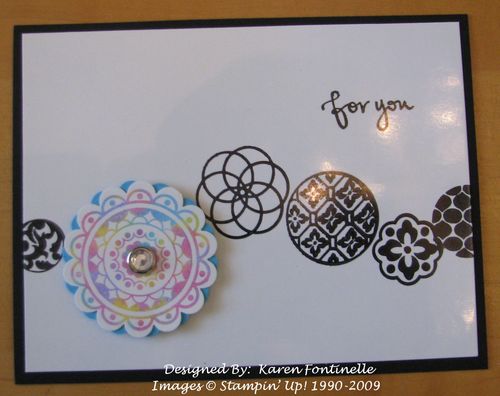 Just a little while ago I checked the Stampin' Up! website in the Demo area to see if there were any new updates or news from Stampin' Up!…..and I also always check the "Stamper's Showcase" area where Stampin' Up! posts cards and scrapbook pages made by demonstrators as a source of ideas for us to show our customers.  What a surprise, to say the least, to see one of my swap cards from Convention on that site today!!!!!!!  I'm sure it is not quite as exciting as earning the Stampin' Up! cruise or any of their other wonderful incentives BUT it is a highlight as a demonstrator to see your card up there on display on Stamper's Showcase!!  And this was my first time!!  Now I don't think it is too miraculous, really, because at Convention they always have opportunities for you to drop your cards into a basket for Stampin' Up! to use on displays or on Stamper's Showcase or however they choose…and I did put my swap cards into the Big Shot Doctor's Bag they had in the Demo Support Offices!  But a THRILL nonetheless!!!!!
Here
is where I posted on my blog about how I made this card.  The stamp set is Circle Circus.
Doesn't this make YOU want to sign up to be a Demonstrator so you can see my card behind the scenes on the Stampin' Up! website….I mean, so maybe YOU can get YOUR card on Stamper's Showcase??!!  Think about it!