If you're not out shopping the middle of the night Black Friday sales and you slept in and are just now checking email and blogs, I've got an easy deal for you!  All you have to do is snuggle up with your cup of coffee, hot chocolate or a Coke and your Stampin' Up! catalogs and make out your shopping list!  Then call or email me with your order of $50 or more and I'll give you FREE SHIPPING!!  This offer is good today (Friday, Nov. 26) through Monday, Nov. 29, 2010.
Stampin' Up! also has an Online Spectacular so be sure to check the sales of up to 50% off……My Digital Studio being one of the really spectacular items on sale…..50% OFF!!!! (see the Thanksgiving card I made in minutes yesterday with MDS!)……not to mention some great dies on sale for the Big Shot (hint:  put those dies AND the BIG SHOT on your Wish List and have your husband or other gift-giver order it during this deal! Make sure your list has $150 on it and then pick out your free Hostess stamp set you want AND your free $15 in merchandise (Remember, anybody gets Hostess Benefits (called Hostess Rewards online) with an order of $150 OR MORE!….and get FREE SHIPPING!).  The Stampin' Up! Online Spectacular is good until Nov. 30, 2010 and must be placed online HERE. Contact me if you have any ordering questions!
AND…don't forget the Stampin' Up! Holiday Bundles!!!  (Unfortunately, the Tags til Christmas Bundle 2 is no longer available due to issues with the punch.  Stampin' Up! is working on that even as we speak.)  This offer is good through Dec. 16th!!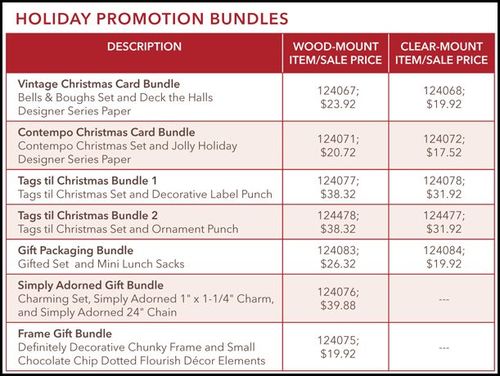 SO….
If your order is $49.99 or less, you can order online yourself or email me with your order.  Shipping will be $6.95.
If your order is $50.00 – $149.99, email (KSFontinelle@gmail.com) or call me (713-981-7662) with your order and I will give you free shipping. This is my own personal special for you, not available through Stampin' Up!. If you place this order online, you will not receive free shipping.
If your order is $150.00 or more, you can order online yourself HERE and you will get free shipping from Stampin' Up!  As long as you are on MY website (be sure you see my name in the upper right corner) you will also get Hostess Rewards…choose a Hostess stamp set and $15 (or more, depending on your order total).  What a deal!!
Have a wonderful weekend and just ASK if you have any questions about all these deals going on!!!