Today, June 20th, is the first day of summer….at least it will be by 7:09 PM (EDT). What better way to celebrate the first day of summer than with mouthwatering popsicles!  In this case, the popsicles are stamped with the cute Mouthwatering stamp set!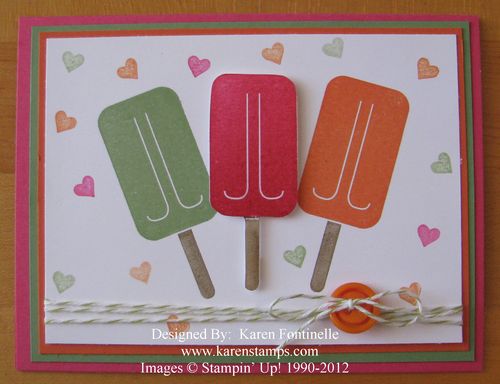 If we had "smell-o-vision", maybe you could smell the Cherry Scented Stampin' Emboss Powder #127035 embossed into the center popsicle! Yum! Stampin' Up! says the scent should last up to 2 weeks.
After tying on the Lucky Limeade Baker's Twine #125572 with a Pumpkin Pie Brights Designer Button #119747, the card still needed something.  I chose the little heart stamp in the new Make a Cake stamp set, using the same ink colors I used for the popsicles, but "stamping off" first for a lighter shade. I think it made the card look fun and cute! The popsicle colors are Wild Wasabi, Melon Mambo, and Tangerine Tango.
Why not make a bright and fun card today to celebrate the first day of summer?!
It's a rainy, cooler day in Houston, TX today so not our typical hot, hot, hot summer day….but I'll take it….because tomorrow the summertime heat could return!