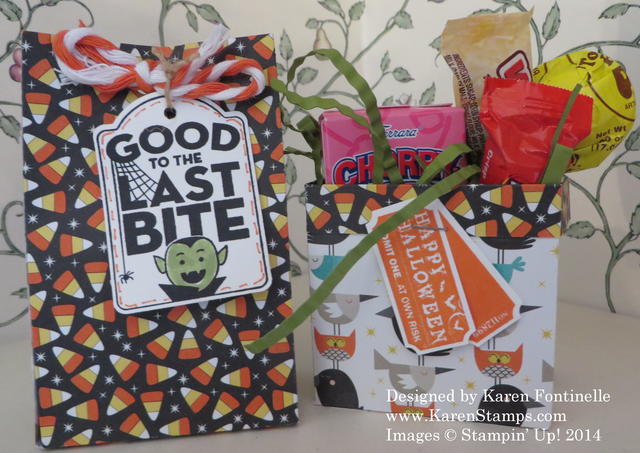 Here's how to make two easy Halloween Treat Bags using the Motley Monsters Designer Series Paper. You just need paper, a Simply Scored Tool or Stampin' Trimmer, and some strong adhesive, like Fuse Fast.
Start with a piece of card stock or designer paper cut to 8 1/2″ x 5 1/2″. Score the paper lengthwise (portrait) at 1 1/2″ on one side. Turn the paper to landscape position (sideways) and score at 1 1/2″, 4″, 5 1/2″, and 8″. Fold and crease all the score lines, preferably with a Bone Folder. The short little 1/2″ wide section on the very end needs to be cut off. Along that same 1 1/2″ wide section, cut on all the score lines up to the score line going across.  This will make the flaps for the bottom of the bag. If you want, just trim those on an angle a little bit to keep the flaps a little less bulky.  Use adhesive on that narrow little 1/2″ flap that is left and fold the bag over to adhere. Then fold the flaps at the bottom and apply a little adhesive.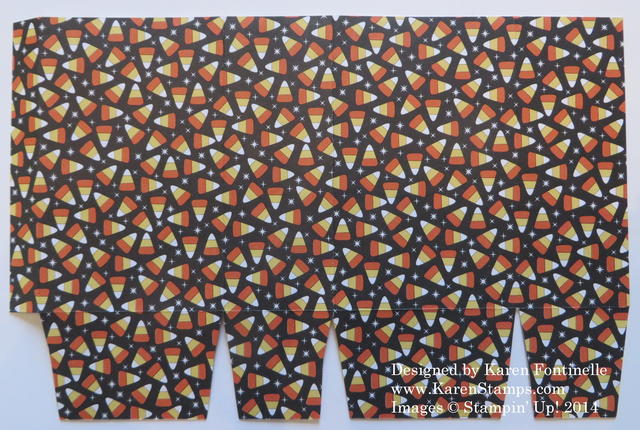 The opposite side of this Motley Monsters paper is the little bird pattern. The first bag I made, I actually scored 1 1/2″ on each side, which meant that after I formed the bag and folded up the bottom flaps, I had a score line running across the middle of the bag where it wasn't supposed to be! Rather than waste the paper or add additional paper to hide it (remember, there are NO mistakes in stamping!), I trimmed off a little bit of the top and just folded that top edge down on that wayward score line. That's the bag on the right with the birds and a top edge of the candy corn pattern! Turned out cute anyway, if not a little smaller!
The bag on the left I did correctly, using the candy corn side of the paper instead of the birds.Once you have the basic bag made, you can leave it like that or you can push the sides in a little and pinch the top closed, punch a hole for ribbon and tie it shut.
It's very cute and easy to make and can be used for any occasion. Try one! The candy corn bag uses a Halloween greeting from the Merry Everything Bundle and punched with the included Tag Punch. I used the White and Tangerine Tango Trim to tie it shut.  The other bag has a couple of tickets to adorn it from the That's The Ticket stamp set.  Sometimes we get so carried away with the "new" stuff in the newest catalog that we forget about what other stamp sets we own that might work, too!

You better get to work on your Halloween treat bags!
Shop at my Stampin' Up! Online Store when you need some supplies!