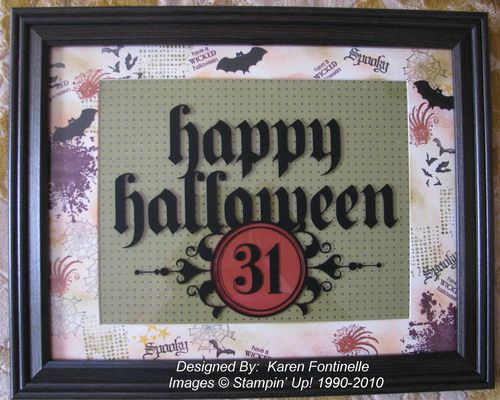 Now that I've found my Spooky Things Decor Elements #122296 that I ordered from the Holiday Mini Catalog, I had to make another project!  Of course I forgot to measure before going to the craft store so the frame I bought was a little larger than I needed.  But it still fit using the mat since the frame opening was larger than 12 inches across, and that would have been more difficult to fill.  Anyway, the vinyl Decor Elements….the "happy halloween 31" is placed on the front of the glass of the frame.  Directions come with the vinyl so you will know exactly how to apply or you can read my post from yesterday and watch a video from Stampin' Up! on working with Decor Elements.  I taped a piece of Wicked Fun Specialty Paper #117400 behind the mat for the background.  And then I went wild stamping on the mat!  I used stamps from Extreme Elements #115181 and Wicked Cool #120600 to decorate the mat!  Of course I wanted to use my Bitty Bat Large Punch #119279, so you see three bats flying around, eyes are dots with the white Signo Gel Pen #105021.  Don't worry that just because Halloween will be over you won't be able to use the Bat Punch because clever people have already figured out ways to use the punch for other cute things.
Sometimes it is fun to think of using your stamping supplies for some home decor instead of a card or scrapbook page!
If you need some supplies for holiday decorations, just go to my website and online store HERE and click the Shop Now button!  Easy as pie!