Paper Pumpkin, a monthly papercrafting subscription from Stampin' Up! that comes in your mailbox, is stepping it up, and I've seen it with my own eyes! At the Stampin' Up! Leadership Conference we were allowed to peek behind the curtain (honestly!) and see the January, February, and March Paper Pumpkin Kits. Everyone was very pleased to see more in the kits and even better projects.
And Stampin' Up! sweetened the pot to entice you to try out Paper Pumpkin! Just subscribe before February 10th and receive a set of 2012-2014 Stampin' Write In Color Markers FREE.
The first kit you will receive will be the Welcome Kit, a kit to make four cards with a free clear block to use with subsequent kits to mount the stamps that come in the kit.  Everything is included in the kit except adhesive! After that first month, you will receive whatever the current kit is.  You can "pause" your subscription when you want or even cancel it.  The "magic date" to remember is to make any changes by the 10th of any month.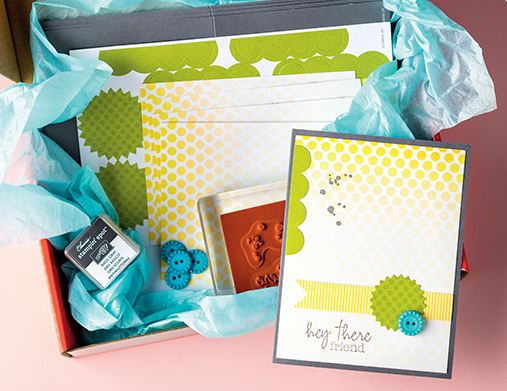 The next month you will receive whatever kit is going out to everyone! It isn't always cards. It could be a mini album or other project. It's a surprise!
Here is my January Kit, which even included a surprise gift of the In Color Boutique Details.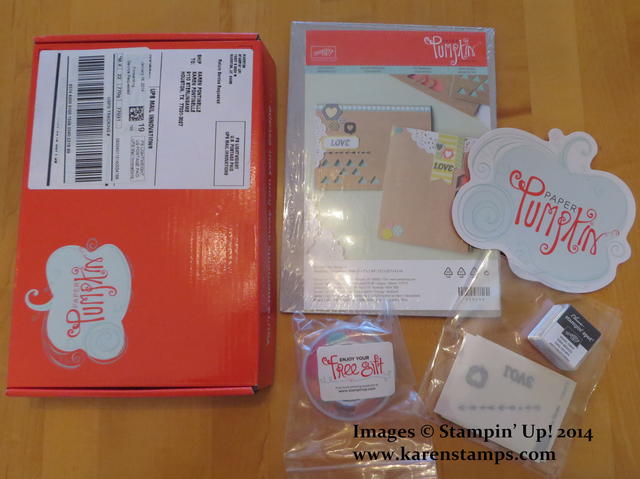 And here's what I made! Two of the cards I made following the Stampin' Up! directions and pictures. Two I reversed, putting the colored inside on the outside and adding the extra adhesive pieces!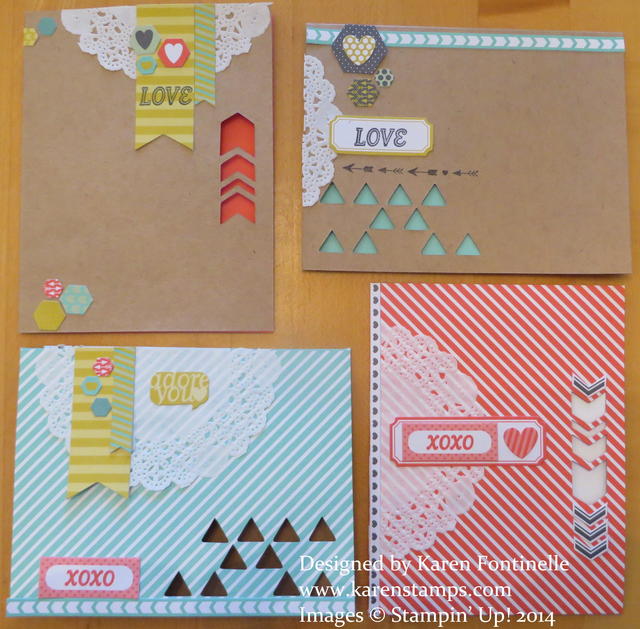 And these are all the extra pieces I have left to use on any other project!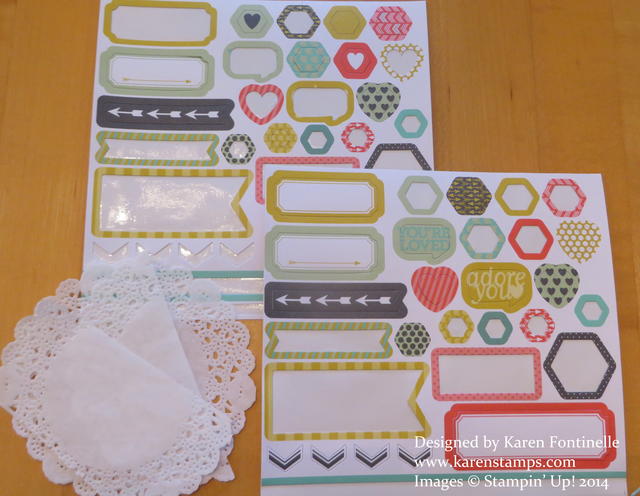 What do you think?  Would you like a surprise papercrafting project in your mailbox once a month? Who doesn't like to get a present in the mail?! It's for you to take a few minutes for yourself to sit and relax and make a cute project from Stampin' Up! without having to design it yourself or gather materials. Just open the box and see what's inside!
Let me know if you have any questions about Paper Pumpkin or subscribing!  I'd be happy to help!