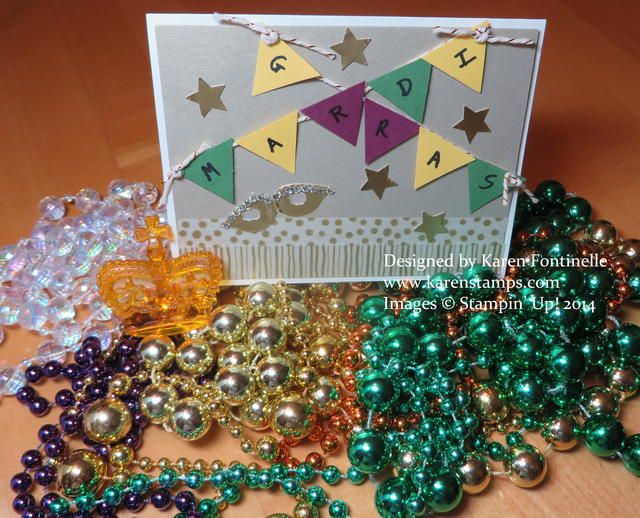 It's time for Mardi Gras! Mardi Gras means "Fat Tuesday" in French and is the celebration the day before Ash Wednesday, when Lent begins. Mardi Gras is the last night of eating rich, fatty foods before the religious obligations of Lent. Of course everyone has heard of the parties and parades in New Orleans during Mardi Gras, but actually celebrations are held in lots of places. There are big, fancy parties with delicious food and parades with floats and throwing of beads and other trinkets. These are just a few of my beads, not from going to the real Mardi Gras, but from going to Mardi Gras parties for a few years. The man who hosted the parties was from Louisiana so the food was great and the live music great! Not to mention the little parade through the tables of the party when they would toss some beads!
My card is made from a base of Very Vanilla with a Brushed Gold card stock layer (hard to tell in the photograph). I decided to make little Mardi Gras banners with the Triangle Punch "strung" on Gold Baker's Twine and then I just hand-lettered the banners. To jazz up the card a little I decided to add some Watercolor Wonder Designer Washi Tape at the bottom. I also punched a few stars from the Goil Foil. Can you figure out how I made the little mask? I folded a piece of the Gold Foil and stuck it in the wing piece on the Bird Punch, just so the fold line would not be cut. I thought it kind of looked like a mask! I dug out the retired Crop-A-Dile to punch a hole or two in the mask to make the eyes.  Then I added a string of Rhinestone Jewels to decorate the mask.
Make something with gold, green and purple today to celebrate Mardi Gras. The colors have meaning: purple for justice, gold for power and green for faith. There are lots of interesting articles online to read about Mardi Gras! It's quite the day and celebration!
Here are the Stampin' Up! Weekly Deals: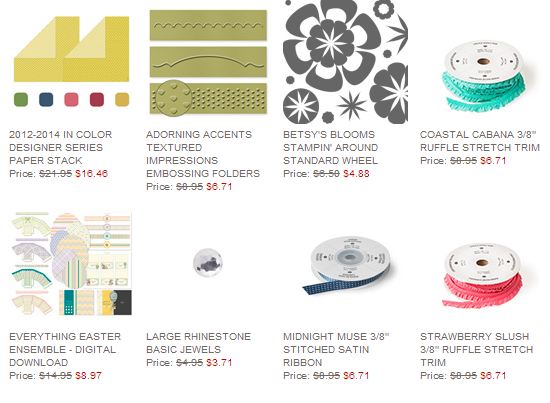 These are good through next Monday night! Have fun shopping at my Stampin' Up! Online Store!