I've been saying that Paper Pumpkin has been getting better and better every month!  I think the November Kit hit it out of the park! Paper Pumpkin is the papercrafting kit that comes to you in the mail, all wrapped up in a cute red box, for your crafting pleasure! This kit contained contents to make a 3D Christmas card with snowflakes, rhinestones, silver baker's twine, and washi tape and a coordinating tag for packages! There is so much included in the kit!  You can follow the directions and make the exact project provided or you can change it up or make something completely different with the materials.
Here are all the contents of the kit!
Looks like fun, right?! Read about Paper Pumpkin HERE.  You can either do a monthly subscription, which you can pause or cancel at any time (so no risk!) for $19.95 a month (which includes shipping!!) OR you can add a subscription to your regular Stampin' Up! order.  You can see those subscriptions HERE.  These are paid with your order.  Either way, you get a kit in the mail once a month, it is almost always a surprise, and being a subscriber allows you access to past kits or refills (when available) if you want to make more or if you want a kit that you missed.
You can gift Paper Pumpkin subscriptions as well so consider that as you look over your people you have to buy for. Someone on your list might be the perfect person to receive a Paper Pumpkin Kit in the mail!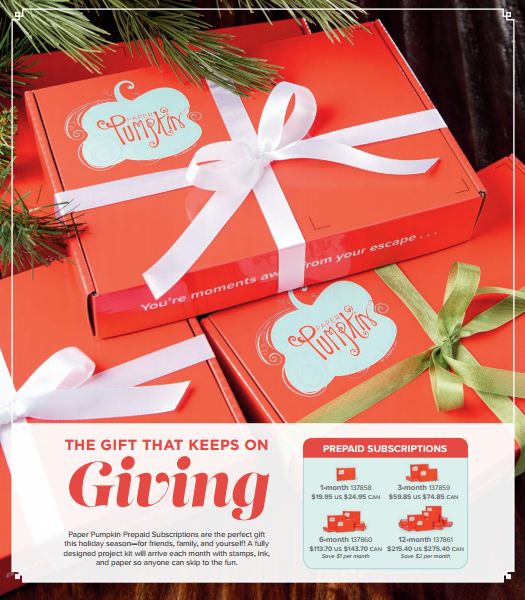 Be sure to check the Stampin' Up! Online Store for the Year-End Closeout on the Clearance Rack!  Great Deals! Even Christmas products!  While supplies last so don't wait!