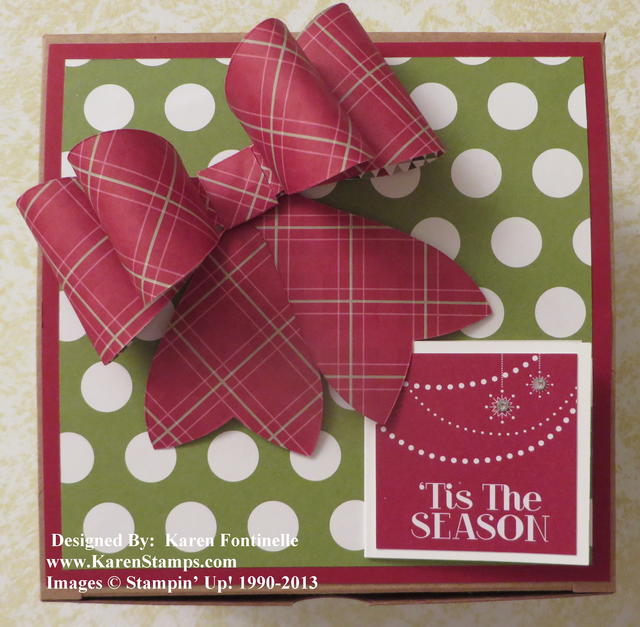 'Tis the season (or almost!) for making pretty gift wrap boxes for the holiday gifts we have shopped for or handmade for our friends and family. Why not get a head start with the Stampin' Up! Extra-Large Gift Boxes?  They come three in a package and are one of the Weekly Deals, if you order by tonight. Just fold them up into their box shape and start decorating!  It needn't be elaborate, unless you want it to be. Here I have just adhered pieces of the Season of Style Designer Series Paper to the top and sides of the box.  On the top, I layered it on a piece of Cherry Cobbler card stock but the sides are just the designer paper.  And before I put the Christmas tag on, the decorated box could be for any other occasion, not just Christmas! Also on the Weekly Deal, ending Monday November 18, is the Gift Bow Bigz L Die. Grab it for a discount today and you can easily make the double bow like on the top of this box. It probably only took me about ten minutes to decorate this box!  Nothing could be simpler!
For the little tag in the corner of the gift box, I used one of the MANY tags in the Season of Style Designer Journaling Tags package in the Holiday Catalog. I chose one and made a little card to layer it on and stuck it on the top of the box.  Now all I have to do is write the "to" and "from" inside when I see what gift is going in the box! Of course I had to add a little bling with two small Rhinestone Jewels on the snowflakes. You can use these die-cut printed tags for scrapbooks, photo albums, even cards.  You'll enjoy playing with them!
Don't delay, check out the Weekly Deals ending today! You'll probably want all the items! But even if you miss the sale, they are still good values to have.
Go to my Stampin' Up! Online Store and get your order in!  Let me know if you have any questions! From the Home Page of my store, be sure to check all the categories in the left sidebar. Don't forget the Clearance Rack either!