I had fun yesterday working on these Picture Mugs I picked up at Aaron Brothers Art and Framing.  I'm sure you can buy them other places as well.  They are designed to stick photos inside, which is great, too, but I thought of stamping something.  I decided to work with the new stamp set "Petal Pizzazz" on page 90 of the new Idea Book & Catalog.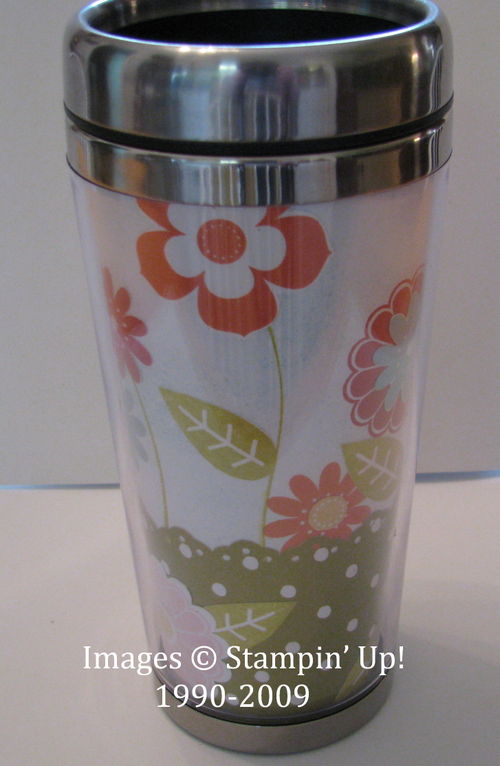 To begin, just unscrew the bottom of the mug and pull out the insert that is in between the outside of the mug and the inner container.  There is a piece of clear plastic over the paper insert.  You can use this piece of plastic as your template to make your cardstock base. 
I used Whisper White card stock, sponged with some Baja Breeze ink for sky.  Then I stamped a few stems and flowers on this cardstock.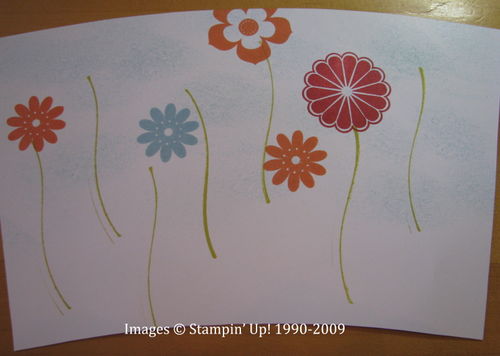 I wanted to use some green designer paper for the grass so I chose this pattern from Bella Rose, and since I wanted to play with my new Eyelet Border Punch I used that across the top of the grass!  A little odd but fun!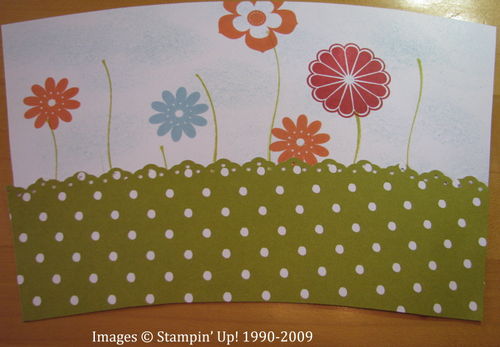 Next I stamped assorted flowers in different colors, thinking I would use of course the whole flowers but also thinking I could punch the centers to use on other flowers.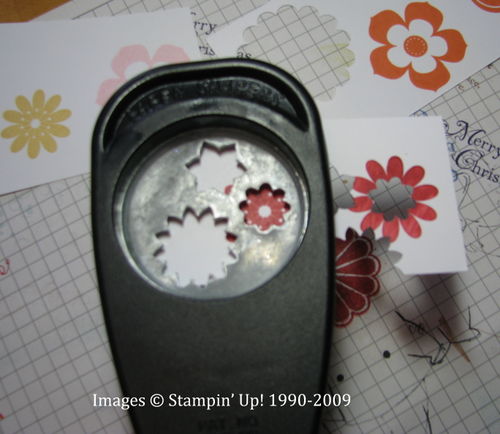 I just laid out the flowers on my stamped piece, playing around with placement and colors and what centers would go on which flowers.  When I was happy with the design, I glued everything down with Tombow Multi Purpose Adhesive.  If you get any of that where you don't want it, let it dry and then use the fantastic Adhesive Remover.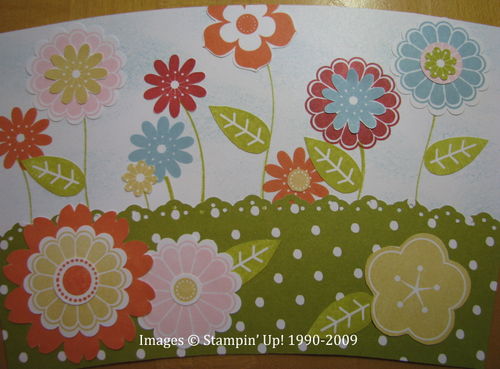 Yes, I had to cut out most of the flowers and leaves by hand, but as long as you have the Paper Snips, it is not too bad of a job!  You can use the Scallop Punch on the one flower design, which leaves a little white margin on the edges but that is fine.
Here is a second one I did, instead using the Kiwi Kiss textured cardstock for the grass and a few different flowers and colors.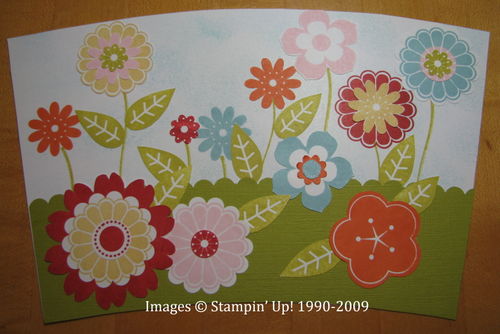 You can see on this one, as I was using the Scallop Punch to do the yellow flower center on the gigantic red flower in the lower left corner, I turned the punch a bit, instead of trying to line up the scallops and it made like a little ruffle around the edge of the flower that I really liked!  You should be able to click on any of these pictures and make them larger.
Place the plastic template over your work and roll it up so you can reinsert it into the mug.  It was a little tricky to keep the plastic lined up with the paper on the edges, but I finally did it!