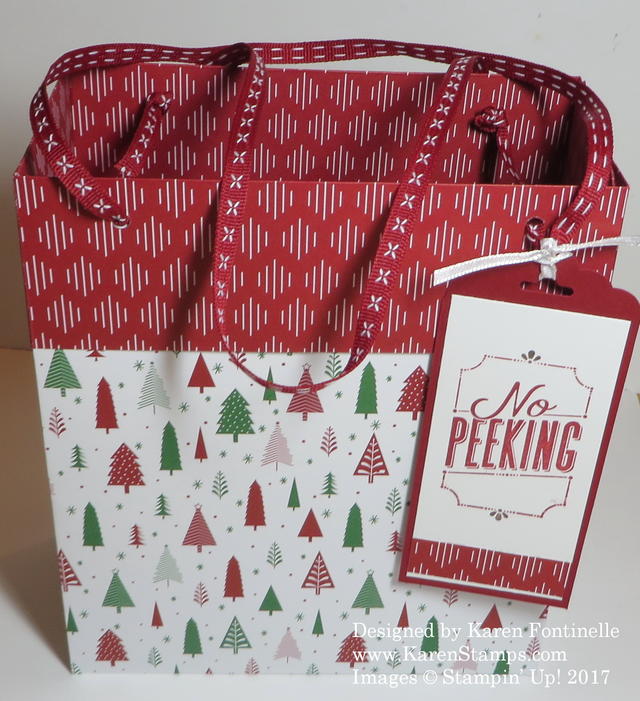 I was reminded recently that we used to make our own gift bags, like this one that anyone can make with the Be Merry Designer Series Paper.  What a great way to use current designer paper or use up some of that paper you know you are hoarding! This gift bag just takes a few minutes to make, faster than making a trip to the store for a gift bag! And you can personalize it for whatever occasion or whoever you are giving it to!
You will need two full sheets of 12″ x 12″ designer paper…..or cardstock, if you prefer. Score each at 3″ on each of three sides and at 2″ on one side. Now, if your paper has a pattern, pay attention to which way everything is going. For example, since the one side of this paper has the trees all going in one direction, I had to think about the 2″ scored portion folding over at the top of the tree page, not at the bottom. The side that is scored at 2″ is the portion that will get folded over to show the pattern on the other side of the paper.  I wouldn't want my trees to be upside down.
With both papers scored the same way, on one sheet, cut out the outside bottom squares. On the other paper, cut horizontally on the bottom score line just up to the vertical score line.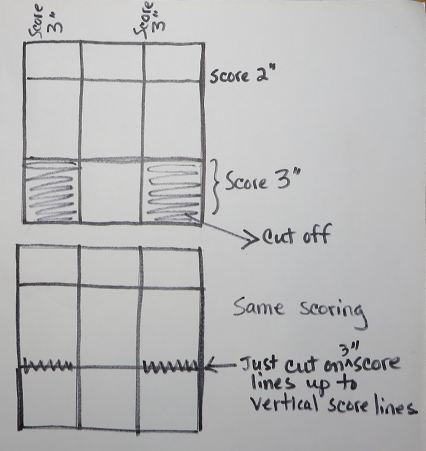 To make the bottom of the bag sturdier, cut a 3″ x 6″ piece of cardstock or light cardboard. This will go at the bottom of the bag in between the two bottom layers. Fold the bag on the score lines and see how it will fit together. Adhere the piece of cardstock actually to the front side of the bag at the bottom which will be folded underneath and will be sandwiched in between the two bottom pieces.  You will see when you assemble!
Use a strong glue to hold the bag together.  Fast Fuse is great or Tear & Tape, or at least Multipurpose Liquid Glue. If you use SNAIL Adhesive, put the adhesive on both pieces you are gluing together so that the strips of adhesive will intersect.  This will make it stronger.
Assemble the bag, paying attention to which side will be the front, so the folds are facing the front and not the raw edges. Punch four holes in the top for a ribbon handle if you like. Make a tag to tie on!
Once you make one of these Christmas gift bags, you almost won't be able to stop making more! Pretty quick and easy to make your own Be Merry Christmas gift bag or use any paper you have!