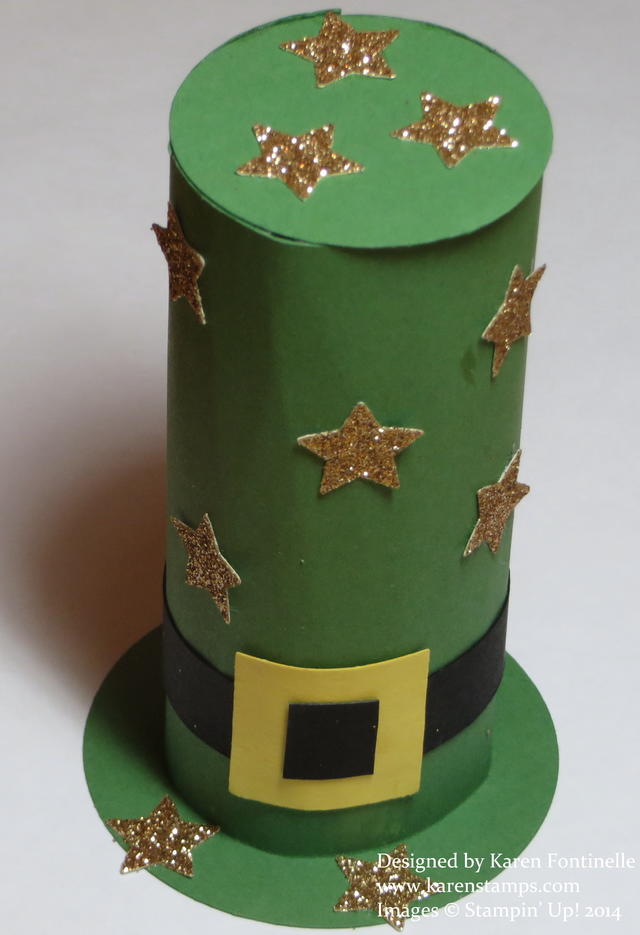 For some St. Patrick's Day fun, make a cute leprechaun hat. This is an easy craft that would be fun to do with your child perhaps. Start with a toilet paper roll or part of a paper towel roll. Make yours as tall or short as you like. Cut a piece of green card stock that will fit around your roll. Mine was a toilet paper roll and I cut a piece of Garden Green card stock 4″ x 6″ to fit around it. That gave a slight overlap in the back. For the top of the hat, I punched a circle with the 1 3/4″ Circle Punch. Just add  a little bead of glue around the top rim of the roll to adhere the top of the hat. For the bottom, the hat brim, just punch a circle with the 2 1/2″ Circle Punch. You could even fill the hat with some candy or other treat before adhering to the bottom circle. For the hat band, I cut a 1/2″ strip of Basic Black card stock and wrapped around the hat. For the buckle, I punched a square with the 1″ Square Punch in Daffodil Delight card stock. The easiest way to make it look like a buckle is just to adhere a small piece of Basic Black card stock the same width as the black band in the center of the yellow square. Now it looks like a buckle without having to cut the slits. You could stamp a little something on all the paper before putting the hat together but I just punched some stars from the Champagne Glimmer Paper or you could use the Gold Foil Sheets.
St. Patrick's Day is March 17 so it's time to be making some fun little party favors or decorations!
Don't forget about the Weekly Deals at Stampin' Up! that will end for this week on Monday, March 17th. Easy to remember –  the same as St. Patrick's Day!