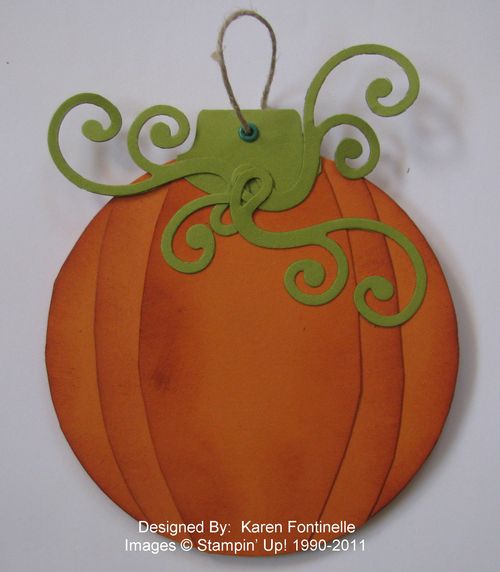 Do you want to make an easy paper pumpkin for a fall decoration? You can easily make a pumpkin ornament to hang on your fall or Halloween tree perhaps or anywhere.
This pumpkin is about four inches in diameter and is made with a coaster! Just take a coaster you might get at a restaurant or buy at a craft store and cover with paper.  I cut a square of Pumpkin Pie card stock and adhered the paper to the coaster using a Stampin' Up! Anywhere Glue Stick (I put the glue on both the paper and the coaster). Then I just cut off the excess card stock with my Paper Snips….not that you can't use any scissors, but the Stampin' Up! Paper Snips are really the best for certain cutting jobs.  If you need to smooth the edge, just use a Designer Sanding Block.  Before adhering paper to the back of the coaster, I used a Pumpkin Pie Stampin' Write Marker on the side of the brush end to color the side of the coaster….not absolutely necessary, but it covers the color of the coaster. Then, if you want, cover the back side of the coaster.
I decided to add extra layers to make my pumpkin more lifelike.  If you make a small one, you can punch oval shapes for this part, but of course this coaster is too large.  So I just folded a piece of paper in half and drew freehand the smaller pumpkin layers….much like you would draw half a heart on a folded piece of paper to make valentines that were equal on both sides.  I didn't worry about the top and bottom….they extended past the coaster, but I just cut those off later with my Paper Snips.  Before adhering, I sponged the edges with some Cajun Craze ink.
For the top of the pumpkin, I used the Round Tab Punch to punch a piece of Lucky Limeade card stock and folded in half.  You can just run your string or ribbon underneath the folded tab or you can punch a hole with a Crop-A-Dile.  I even inserted an old retired green eyelet.
For the pumpkin vines, I used my Big Shot and the Swirls Scribbles Sizzlit Die.  You could add leaves if you wanted or omit the vines.
This is an easy project to add to your fall decor.  It's time to be decorating for fall and then decorating for Halloween!  Start making some new decorations right now to add a little seasonal pizzazz to your home! I think I'll go make another one!
For paper and supplies, you can conveniently order from Stampin' Up! online HERE.